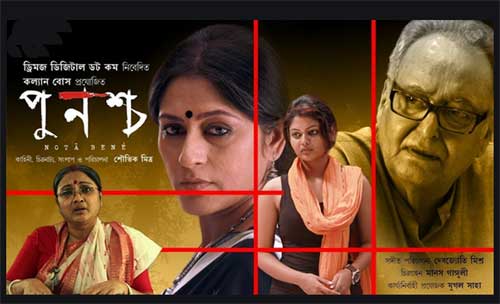 While everyone is speaking of Soumitra Chatterjee's Apu in Satyajit Ray's "Apur Sansar" I am going to talk to you about Soumitra's film "Punascha" which is one of those films in which he worked in the later part of his career. In this film he is not the dashingly handsome young man. He is an old man, with grey hair and a paunch, but he is Soumitra all the same. However, the film belongs to Roopa Ganguly who has the longer role.
The story is about an old man who is now a celebrity writer and a woman who has retired from her teaching job. They had once been in love but had barely started their relationship when they lost touch with each other. Now we see them when they have lived their lives and have got in touch recently through phone calls and messages. The old fire is rekindled and they decide to spend 24 hours together and to live like a couple for that one day.
They find this fantastic opportunity when Animesh, the writer, is invited to Delhi for an award ceremony and he decides to come back to Kolkata by air a day earlier than planned. His wife knows that he will be back by train so she won't expect him until the next day. He comes straight to Mohona, the woman he loves, and almost immediately they sit down to eat. All goes well in the beginning but things take a tragic turn and all doesn't go as planned.
The story has some similarities with the Tamil film "96" where former lovers meet after 22 years and spend one night together. In the Tamil film this meeting allows them to clear misunderstandings and just enjoy each other's company. In this film, "Punascha", the couple is not in that age group when the relationship can be given a future, nor are they trying to understand what really happened and why their relationship didn't find fulfillment. Mohana hints at Animesh's not having taken an initiative to lead the relationship to marriage but they have no bitterness or tears. We understand that they both got married to people chosen by their families and they both have had children but somehow they have not found happiness in their children.
All over the world now people live into extreme old age. This is why such stories are coming up in films where we see people wanting to go back to a love story which had not found a closure in their youth. In this story the woman is a widow and is alone while the man still has his spouse. He is famous but she is unknown to the world at large. As they speak you feel they are two young lovers, the essence of their relationship, comes out. The man says to the woman. "I have taken a greater risk than you have in meeting like this." He says that because he has a wife and he is famous so it is a double risk. But we realise later that her being a woman and a widow makes this meeting a huge risk for her also.
I would like to dwell on their desire to spend a day as a couple. The Bangla words "shongshar (sansar) korbo" is difficult to translate. The nearest is "living the life of a couple", with suggestions of loving and caring for each other, facing the ups and downs of life together. Mohana has cooked for the man she loves, and the way he eats, relishing every morsel, is an expression of their love for each other. It is a physical pleasure in which both are involved. Their love is expressed in the little things they say and do, in what is there between the lines. They take delight in those ordinary actions which couples who are married for decades take for granted.
"Punascha" means a postscript. The word has a meaning in the life of a writer. Strangely enough Soumitra has acted in a much earlier film which has the same name. It shows how long a life Soumitra lived that a film title had the time to come back after several years and he could act in both of them. The film brings up the question of right and wrong, of morality and immorality, of all the rules and regulations of society which binds men and women in relationships. The viewer understands the need for fulfillment in certain lives where duties have been carried out but some joys have no been tasted.
Roopa Ganguly, as Mohana, brings out very beautifully the woman's need for caring for a lover. She goes through such a range of emotions and she wins the viewer over by the way she gets into the skin of the character she is playing. She is, of course, much younger than Soumitra so the casting is a bit unexpected. But in old age the difference of 20 years can be made to look like 5 years. However, because she is younger she has that physical allure which a much older woman would not have had.
This is the only drawback of the film. If Soumitra had reconnected with a woman who was closer to his age then she would have been much older and physically much more ravaged. And then would the old man have really been so loving and so romantic? I doubt it. It's because they have cast Roopa Ganguly, a much younger actress, that there is a certain angle of physical attraction. You can see it in Soumitra's admiring eyes. But if you see a more recent film "Sanjhbati" where Soumitra is paired opposite Lily Chakraborty you know that there is nothing more than a deep friendship because the lady is of a similar age as Soumitra, and they are both old and tired and overweight.
The fact that this film found a producer and an audience proves that India is changing fast and there is an generation which understands this need for love and romance even in old age. The body grows old but does the emotional heart grow old too? Definitely not.