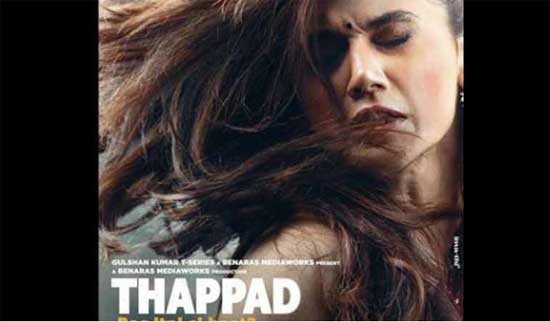 I assume that by now everyone who wanted to see this film has already seen it and that those who haven't seen the film are not going to see it. So I am not going to worry about spoilers.
The film shows the transformation of Amrita from a happy housewife to a pillar of strength. The turning point is a slap. But the context of the slap is also important. Her husband hits her in a moment of rage during an argument concerning his job, during a house party to celebrate his promotion. But this one incident becomes the starting point of a chain reaction that changes the lives of the couple and of those around them.
Any woman who has been slapped by her partner, either husband or boyfriend, knows very well that it is never something that comes out of the blue. There is a whole background. On the one hand there is what is acceptable in one's society and on the other the man's own psychological makeup. But the most important element is the man's own sense of superiority.
This film is not so much about domestic violence as it is about mutual respect in a couple. This is such an important subject but it has never been addressed so directly in Indian cinema. The film is sure to make an impact even if it doesn't make any money at the box office because it holds up a mirror and points a finger to the way Indian society thinks about women.
There are many layers to the story and the back ground of the film is rich with many characters who re-examine their own lives in the light of what has happened. It is not "just a slap". It is a whole reflection on the man-woman relationship, on the role of a home maker, on self-fulfillment, on the role of money in a relationship and many other issues.
All the women in this film have a story, from the oldest to the youngest, from the richest to the poorest. Each one, except the widowed neighbour, have had to face the dominance of a male over them. All of them have had to give up their dreams to make others happy. But the writer makes it clear that happy stories are possible. There is a balance in the structure where on the one side there are episodes of inequality and selfishness and on the other side there are stories of sympathy and understanding among some of the characters.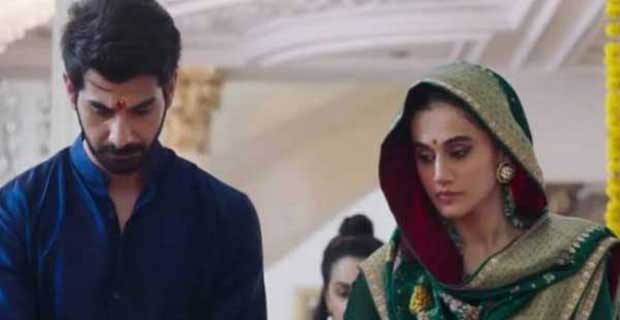 Casting, as they say, is half the job done. In this film it is the excellent casting that makes it possible for the director to tell such a complex story. Ratna Pathak Shah is excellent as usual in the role of Amrita's mother. The actress playing the maid servant stands out in her depiction of a poor woman who is beaten on a daily basis and yet she has a fiery spirit. Pavail Gulati as the husband has done a remarkable job of a good man who has imbibed all the prejudices of the environment in which he is brought up.
The strongest scene is the one where Amrita speaks to her own mother-in-law during a puja held in the family and where everyone is present. This is a scene that mirrors the party scene where she is slapped. Here again the whole family is gathered and Amrita speaks about herself and she reiterates that she is indeed leaving her husband.
The weakest scenes in my opinion are the ones where Amrita is teaching her neighbour's daughter to dance. A dance teacher has to stop and correct the movements of the student otherwise she is not teaching. And we never see where the 'bols' the rhythmic syllables are coming from. You never see the teacher switch on and switch off anything. Evidently, the director doesn't have such a clear idea about dance classes.
The director Anubhav Sinha has co-written the film with Mrunmayee Lagoo. The fact that there is a woman writer involved makes it easier for the director to get the authentic point of view of the women in the story. Dialogues are apt and quiet. This is the strength of the film: there is no melodrama and preaching. It is all very simply expressed and everything happens at the rhythm of everyday life.
Anubhav Sinha has worked very hard to write the film and to shoot it in such a way that it touches our hearts in a very subtle way. He has made Amrita look as if she is overdoing things so that we ourselves feel that we are not doing enough to ensure that everyone is given the respect that they deserve. The difficulty of the director lies in choosing what to keep and what to leave out. It requires years of experience to know what is too much and what is too little.
Some years ago I was invited to a press conference in London where Vishal Bharadwaj was going to speak about his film career. I asked him why he showed item songs in his films when he knew that this teaches men to look down on women. "Films make such a deep impact on society. So don't you think you should be careful about what you show?" I asked him.
He was very annoyed and answered, "How can you accuse filmmakers of influencing society in a negative way? We only show what is already there in society. Do you think that if I show a bhajan by Kabir the whole of India will become very spiritual?"
I was amazed that so successful and intelligent a filmmaker as Vishal Bharadwaj didn't seem to be aware of the power cinema has on the masses. Particularly the uneducated youth absorb the unspoken message of the films. Just as a negative message in cinema can harm Indian society a positive message can also help Indians to get rid of prejudices that have long been there in every level of our society. And 'Thappad' is sure to trigger a conversation at least among those who are even slightly aware.
I really enjoyed watching this film and felt that we have stepped into a new cinematic age in India when such films are being made and appreciated.