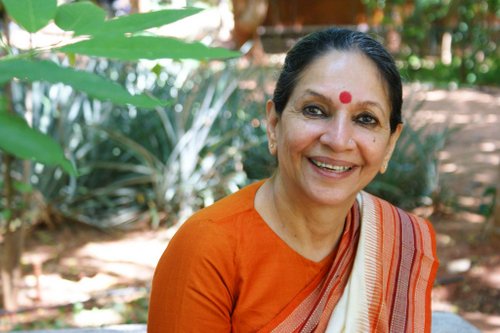 Having met up with some theatre people in Paris and sharing thoughts on our common passion I have suddenly become nostalgic and remember Veenapani Chawla.
I am still unable to delete from my phone the text message that Veenapani sent me two years ago. It was sent the day after we had performed our Bengali adaptation of Chekhov's play "The Bear". She had not been able to see it as she had to go to Delhi a couple of days later and she had some paperwork to finish before leaving.
"Dearest Sunayana," the message says, "I heard you were superb". She continued the message saying that she wanted me to come over to Adishakti for a cup of coffee after her return so that we could just have a good chat and catch up. As soon as she was back I went to see her. It seemed as if it was only yesterday that we were sitting in the verandah of her house, surrounded by hibiscus flowers. Although it was supposed to be a chat over coffee we ended up having two tall glasses of watermelon juice. That afternoon was all red and pink and green.
We spoke of so many things, laughed remembering friends and made plans to have another performance of our play at Adishakti so that she could see it. She remembered some incidents from the time when she was at Prithvi Theatre in Mumbai. The one hour that we spent together flew away like minutes. It was perhaps the first time in many years that we had spent a quiet time like this, only the two of us. Little did I know then that she would never be able to see our play, that she would die before we could stage it a few months later.
Twenty years earlier we had spent so much time together when she wanted to teach us all the different activities that go with stage productions. For almost a year our small group of theatre-enthusiasts had spent three nights a week learning the craft of acting, and touched on the basics of lighting, costume and set design. That was several years before she built her theatre near Auroville.
I was not such a fan of her theatre creations but I loved her energy. The format which she had chosen was not what interests me but it was so inspiring to see someone live for her passion. There was nothing else which interested her other than her work and she was learning everyday so that she could progress. What struck me most of all was the fact that she was not looking for fame; she was looking for ways in which she could take her work forward. In this respect, what she achieved is colossal.
So many images flood my memory today. I knew her first as the young lady with the big red bindi when she used to come to Pondicherry in the 1970s. She used to always wear such beautiful saris with ethnic blouses. Later when we knew each other a little better she would always have a smile for me and when she saw me in a sari she always made it a point to complement me on my taste. And then in the last decade of her life she chose to be dressed very simply, in very sober kurtas and plain salwars. She looked completely different but her smile never changed.
She looked like a serious person, an intellectual even, but she had a fine sense of humour and could be fun to be with. I still cannot believe that she is no more. And yet every now and then I think of her because in the suddenness of her departure she has taught me a lesson. From the moment that I received the news of her death in the form of a text message from a friend I cannot get it out of my mind that every minute is precious and only those who are focussed like her can turn a dream into a reality. What has to be done must be done with a one-pointed devotion and all that is not part of that goal has to be thrown out. Thank you, Veena.