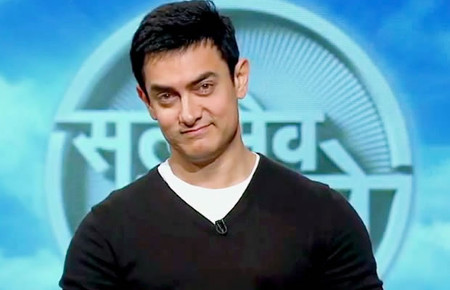 I became a fan of Aamir Khan after seeing Mangal Pandey. I had no doubt that he was a good actor but after watching Satyameva Jayate I now also have a great deal of respect for him. He has taken up so many issues and discussed them in such a clear and comprehensive manner that one cannot remain unmoved.
All his episodes are interesting but the one dealing with road accidents was the one that has remained in my mind in all its details. He took the trouble of calling every category of people involved in this subject. From families who had lost members in road accidents to truck drivers who carry overloaded vehicles to policemen, they were all there.
The country has no idea about the scale of destruction that road accidents bring on. People say, "It was destined and we have to accept that death." Aamir Khan brought it to the attention of the nation that these are entirely avoidable disasters. At the end of the show when he asked the people in the audience to raise their hands if they had paid to get a driving license, all except two lifted their hands! If no one actually passes a test to be able to drive then how can we expect to have safe roads?
The construction industry is responsible for the overloading of trucks carrying steel rods. Not only do trucks take double the permissible quantity but they also take rods which hang out of the rear of the trucks by several metres. Sometimes all there is is a small piece of red cloth tied to the end of the protruding rods to indicate that they end there. But how can a driver coming behind the truck at a speed judge the distance if at all he can see that cloth. Can a driver not understand that steel rods jutting out of the back is dangerous to those who are behind? The drivers of these trucks claim that they cannot say anything as they are asked to take that load by the constructor who has bought those steel rods.
I was very touched to see Aamir ask his audience, "How can one live in a flat knowing that people have died in road accidents while steel rods for the construction were being transported?" The police are very much aware of this problem but do nothing about it.
Another horrifying truth that came out in that episode was the fact that long distance drivers often take drugs to stay awake in order to drive all night. The highways are full of drivers who are actually under the influence of drugs or alcohol. The drivers admitted that often they sleep with their eyes open while they are driving on the highways.
If all film stars use their fame to do something for the country then we would be living in a better world. There is a social responsibility that goes with the love that people give an actor. Creating social awareness by actors and actresses has been going on for a long time in Hollywood and Europe but we are seeing it for the first time in India on this scale.
As I end this post I must mention how much I enjoyed watching Aamir's film "PK". I don't know of any other actor who would have the guts to take up such a role and point out the ignorance in which we live, turning our heads towards the past instead of looking at the powerful future that is standing in front of us.