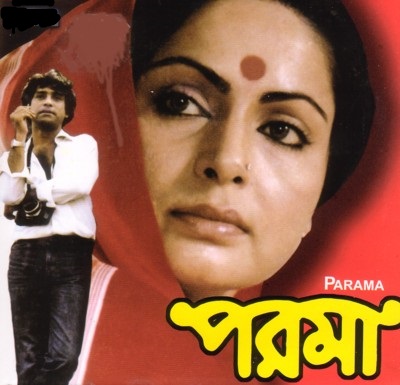 I had seen this film a good 20 years ago but I found the dvd at a friend's house and thought of watching it once again. Films, like books, should be revisited once every 10 years. What has escaped your understanding will become clearly visible after you have crossed certain landmarks of life. And so it was with this film. There were points that I had completely overlooked which cried out to be seen this time round.
The first thing to say about this film is that it has a good, tight script. Sadly, even after looking on the internet for the script-writer's name I have not been able to find it. Aparna Sen may have written it herself or must have worked closely with the person who wrote it.
The story revolves around a married woman who meets a young photographer who is totally charmed by her. They fall in love and spend a lot of time together. Poroma, the woman in question is not only married but also has three children of whom one is a teenage girl. The man with whom she is in love, and who is younger than her, is an Indian who is settled in the USA and is in Calcutta only on a brief visit.
He brings to her life the appreciation that she has never received from her husband. She has always been fulfilling her duties as wife, mother, daughter-in-law and has never been considered a person in her own right. Here is a man who not only tells her that she is beautiful but wants to know her mind and her heart. The film explores the attraction that grows between them, but firstly it explores the mind of an Indian woman who so willingly switches off her own dreams and desires once she is married.
One day, inevitably, the husband comes to know of this relationship and all hell breaks loose. At this point in the story we hear echoes of Ibsen's "Doll's House". The husband suddenly feels that Poroma is not fit to bring up his children. All at once even the children are not hers. Her mother-in-law falls ill as she is totally shocked and Poroma becomes the evil woman in everyone's eyes.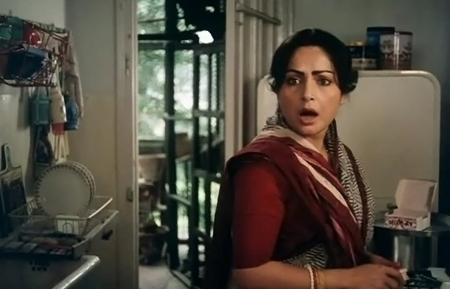 All this ultimately leads to Poroma's nervous breakdown and she attempts to take her own life. When she is recovering her family comes to see her at the hospital but she realises that she can no longer go back to her old life because she has been somehow re-born. Now she decides that she wants to lead a new life. She is completely transformed. She tells her family that she is now thinking of working and earning a living.
Although this film was made in the early 1980s it has a perfectly contemporary feel. True, the clothes and hairstyles have changed but the mentality remains the same in our country. There are still so few women who can live a love story. Love and marriage are two different things and not everybody has the good fortune to live that wonderful experience of being totally in love.
The film's strong points are the visuals and the narration. It has many subtle ways of conveying the closeness of the couple and has many beautiful touches. For all this the credit must go to Aparna, the director. But the one thing for which a film buff should see this film is surely Rakhee's acting. Bollywood had made us believe that she was a dumb beauty but Bengali cinema has been able to bring out the sensitive actress and the great performer that she is. There is something about her voice that compels you to listen to her. The intensity that comes through her eyes is rare in Indian actresses. She was a star and it was something she had earned rightfully, through hard work. But here we see the fine actress who was always there within that star.
The interesting point about this film is that the role of the young lover is played by Aparna Sen's own then husband, Mukul Sharma. He is an academic so I really found his acting very good because when this is not your profession it can be hard to play such a role. How difficult it must be to look seductive and roll around in a bed with a beautiful actress when your own wife is standing behind the camera and scrutinising your every expression? For years I have read his column "Mindsport" in the Indian Express and am his fan. So I was thrilled to see him on screen.
Thirty years have passed since this film was made but it continues to be as fresh in its essence. It is true that women have made great strides in every field in India but the man-woman relationship continues to be disbalanced. The words "wife" and "love" still don't go together. The pace of change however is picking up. Sooner or later people are going to understand that marriage is an institution that has had its day. The day women achieve financial independence we will have relationships of equality and maybe….even love.