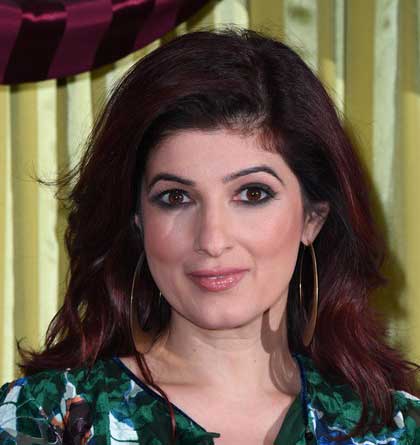 The publishing scene in India has changed so much in the last 15 years that nothing is as before. The days when only literary fiction was considered worthy of being printed are over. We have now moved into a scene where books can be read the way magazines used to be read a decade ago. Thy are interesting but they are just for passing time, not for getting anything deep or lasting. Many books are published now in India that we could never have seen the light of day before.
In this new literary landscape I find something really fascinating. Two star children from Bollywood have become authors. They have both been through unsuccessful film careers first before turning to writing. One is Twinkle Khanna and the other is Soha Ali Khan. They are both daughters of the Bollywood hit pair of the 70s – Rajesh Khanna and Sharmila Tagore. Would we have ever imagined as we watched the screen couple looking deeply into each other's eyes and singing S. D. Burman songs that one day their real-life children would be writing books?
I have to admit that when I first read Twinkle Khanna's column in the TOI I thought it was ghost written by someone else. I just could not believe that a Bollywood kid was actually writing such witty stuff. Why? Because we associate Bollywood with silly stories and absurd thinking. It never struck me that the children of stars had access to good education and that they had a completely different life. Soha Ali Khan actually was at Oxford.
Twinkle Khanna started writing when she was offered a weekly column in a paper by a friend who was moving to another paper. She wasn't sure if she could carry it off but in the end she did. I started believing that she was herself writing the books only when she brought out a book of her best weekly columns. Just goes to show how biased we are about Bollywood stars' intelligence. She spoke so well during the promotion of the book that it was clear she had a fantastic sense of humour. Twinkle has now brought out her book of short stories which has been well reviewed.
With Soha it was a proposal from Penguin India, the publishing house, that set her off on the journey to the life of a writer. They wanted her to write a book, just anything. They knew that even if she wrote something very mediocre they could market it and sell thousands of copies because she is a celebrity. So she decided to write about herself and particularly about her being moderately famous.
Both have had the honesty to say that if it had not been for their famous parents or their own names being famous however moderately they would never have been able to sell that many copies of their books.
Twinkle Khanna's success as a writer is also a life lesson. Instead of crying over the fact that her film career did not go anywhere (she actually often laughs at her failure quite openly) she went ahead and made another path for herself.
Soha is actually a very fine actress and I have seen her Bengali films which are very very unusual. So I will be very happy if she goes back to acting some day. I do look forward to reading her book which is like a biography because there are many interesting anecdotes about her famous relatives – her father, her mother, her brother, her sister-in-law … I don't know if it also includes Taimur!
Twinkle's book is called "Mrs. Funnybones" and "The Legend of Lakshmiprasad".
Soha Ali Khan's book is called "The Perils of being Moderately Famous".