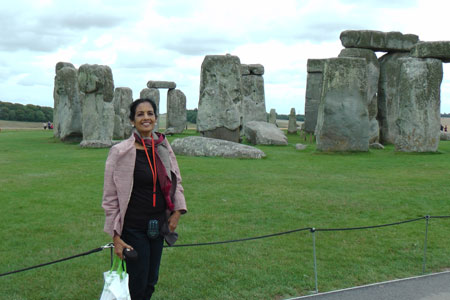 It looks like Obama and I have something in common. We had both put down Stonehenge on our bucket list. And we went there within the same week too!
It was a dream come true and an old dream at that. Even though I had seen so many photos of Stonehenge it was quite another thing to actually stand before those mysterious rocks.
We took a bus from London and were there in 2 hours. But I had never imagined that it would be so windy and cold on the last day of August. But strangely, feeling cold as I was, it made me think of those primitive people who actually built this structure and their labour in those windswept plains. How exposed they were to the weather and the sky!
No one will ever know what Stonehenge really was. But the fact remains that those humans who lived in this part of Britain 4500 years ago or more worked together and built something on a massive scale. It could have been a temple or a place to bury the important people of the region. It could have been an observatory. Or all three and more. Their sense of wonderment at the world must have been so deep.
It was the childhood of mankind. I don't look upon it as a British historic site. I look at it as a site of historical importance concerning mankind as a whole. We human beings were there, trying to understand what the world and human life is all about. We were in the infancy of our mental development and were trying to understand what Life and Death, Time and Space and God were all about. These stones are a testimony to that struggle of the human race to come to grips with the laws of Nature and our efforts to come out of ignorance into Light.
If you visit it don't forget to go into the museum to have a look at the fantastic projection they have installed. There is a round room where the visitor has the imptression of standing in the centre of the stone circles. On the walls on both sides there is a projection where one can see the enormous stones columns as they were 4500 years ago and in the 3-minute video which runs in a loop one can see the seasons pass as well as the sun rising and setting. Of particular beaty is the moment when the stones are covered in snow. In the distance one can see the prehistoric men and women walking in small groups. Whoever made this video is an artist and his work is a joy to watch.
The newly built Visitor Center is another sucessful creation. Constructed at a distance so as not to spoil the landscape the structure is designed in such a way that it harmoniously blends with the surrounding landscape. It has all the services that are needed. There are toilets and a cafe as well as a souvenir shop. An electric vehicle takes you to the stones at frequent intervals. Visors are not allowed to go into the stone circles. The path that goes around the circles is very close at one point but mostly it is a good ten to twenty feet away. One can walk all around it and get a view from varying distance. This is wonderful because one can get different perspectives.
As we sipped our hot coffee at the cafeteria we wondered what the Stonehenge man would have thought of it if his spirit re-appeared and he could see the Chinese girl in front of us swiping websites and pictures on her smart phone sending photos of herself, standing in front of the stones, to her friends in China!