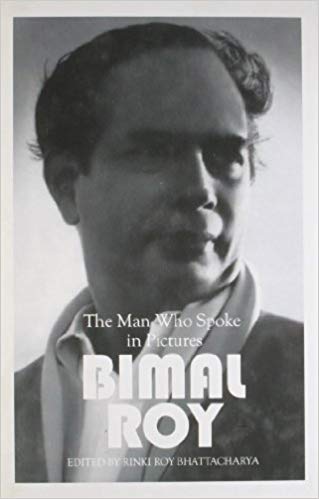 I have just finished reading a very enjoyable book. It is a collection of essays on Bimal Roy, the filmmaker. Edited by his daughter Rinky Bhattacharya and his granddaughter Anwesha Arya, the book is a new edition of the previous version published in 2009.
Bimal Roy is primarily remembered for some of the classics of the black and white era: Bandini, Sujata, Do Bheega Zameen and Devdas. In this book we have the memories of many of the people who he worked with and they give an insight into his method of working. There are also the memories of those who knew him but who hadn't actually worked with him. Names like Ritwik Ghatak, Mahasweta Devi, Shyam Benegal and Khalid Mohammed are some of the well-known ones which you will find in the content page.
For film buffs this is a must read. He had that sobriety and that social purpose which was so sorely missing from Indian Cinema afterwards for several decades. Interestingly, his films were based on novels and short stories which make them very clearly structured. This practice of making screenplays from published works was quite common in Bengal and Bimal Roy is perhaps the one who has to be credited for making this common in the film industry of Bombay. I say "Bombay" because that was the name of the city then to which he moved.
He was surrounded by other Bengalis like S.D. Burman and Hrishikesh Mukherjee. This created the right ambiance he needed to get the precise look or sentiment that was required. Bimal Roy trained an entire batch of technicians and directors who picked up the craft by working with him. So his influence went deep and far even after he had died. The well-known director Basu Bhattacharya was his son-in-law.
Most people don't know that Bimal Roy started his film career as a photographer and later cinematographer with Calcutta's New Theatres. He worked with PC Barua and learned much from him. Bimal Roy was the cinematographer of the almost unknown 1936 Hindi version of "Devdas", starring KL Sehgal and Jamuna.
This book has writers from both Bengal and Mumbai. The pages are full of anecdotes and stories from the world of cinema and fill up all our gaps in understanding of this rich and fascinating world. Today's Indian cinema owes a lot to those who helped it grow in the early years. And for those who are young now the book will open out a whole perspective and show them that Indian cinema was much more than the singing and dancing for which it is known now glabally.
I have particularly enjoyed reading this book as my copy was given to me by Anwesha Arya who is the granddaughter of Bimal Roy. She has co-edited this edition with her mother Rinky Bhattacharya. I went to spend the afternoon with her in her house in Rye in the UK where she lives with her actor husband Sagar Arya and their four children and practically finished reading the book on the train back to London.
I highly recommend this book to anyone who enjoys watching films and has hopes of being a film critic.