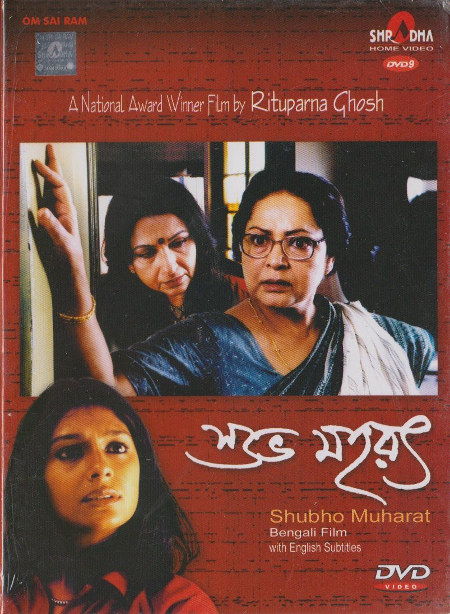 When I bought the dvd of Shubho Mahurat on College Street in Calcutta I realised that it was thanks to so many changes in technology and marketing in the world of Indian cinema that I could watch a film which was released 12 years ago. True, I watched it on the small screen of my laptop but that is better than not seeing it at all. What is that proverb in Bengali? Better to have a one-eyed uncle than no uncle at all.
This film brings together three fine actresses and a very talented director: Sharmila Tagore, Rakhee, Nandita Das and Rituparna Ghosh. Right at the outset let me inform the reader that this film is a Bengali adaptation of an Agatha Christie story which was also made into an English film. The story is called "The Mirror Cracked from Side to Side" and the title of the film is shortened to "The Mirror Cracked". It may be that Agatha Christie was herself inspired by a true story which happened in an English village. The role played by Rakhee is actually a Bengali version of Miss Marple! But how wonderfully Rituparna (whom I will henceforth call Ritu-da) has created this character who is totally original and totally Indian.
The story is a murder mystery so I won't write the plot which I usually do. All I can say is that it is a typical crime thriller written by Christie, which goes through various twists and turns. The film begins with the first day of shooting of a new film being produced by a retired actress. A journalist comes to cover this event. Soon after the shot is over the main actress dies in her flat. So the search for the killer begins.
There are three love stories which run parallel through the film. The first is between an ageing actress and her producer husband, the second is between a young woman journalist and two men who are in love with her and the third is a bond between the camera-man of the new film being made and the make-up woman. Each of the love stories is set in a different context. The three women come from a different class and a different age-group. But it is interesting how they are interconnected.
This film was made by Ritu-da just before he made "Chokher Bali", his magnum opus. In "Shubho Mahurat" he was working with actresses who were stars in Bollywood but he was going to present them before Bengali viewers for whom that would be a novelty. It was with this film that he was going to start his long association with Bollywood stars, casting them in his films because that was the only way he could get a very large audience. He was surely one of the best directors and screenwriters we have had but he never lost sight of the box-office.
All three main actresses – Sharmila, Rakhee and Nandita – give to the film a touch of their very realistic style of acting and keep the viewer's attention fixed to the narration. How harmoniously Nandita's youth contrasts with Rakhee's maturity! How beautifully Sharmila's sophistication contrasts with Rakhee's simplicity! How seamlessly Nandita's carefree attitude contrasts with Sharmila's calculated moves! All three complement each other. Perhaps this is Rakhee's last film role and she has put her heart into it. She truly becomes Ranga Pishi.
The secondary roles have been played with great success too. The dialogues are very interesting and keep the pace of the story at a steady rhythm. This film can stand as an example of good screenplay writing in Indian cinema. Even though the basic story is taken from elsewhere the script in my eyes is an original one. As Vishal Bhardwaj once said, "The plot belonged to Shakespeare but I built my house on it." (I have added this to my collection of puns, as you can imagine.) Ritu-da has done exactly the same kind of work that Vishal does when he adapts Shakesperean plays to the Indian context.
Rituparna Ghosh was someone who understood the mind of a woman. In fact, he was so much in the world of women that he actually wanted to become one himself. This deep fascination for women gave him an insight into the feminine nature. This is why the three women are so real in all their details. This may even be the reason why he chose this story because it gave him the opportunity to explore the feminine psyche.
Whatever may have been the reason for which he chose this story the end result is that the public has an opportunity to watch such an interesting film and we have to thank Ritu-da for pulling Bengali cinema out of the pit into which it had fallen. Rakhee received the 2003 National Award for the best supporting actress for this film. This film also received the National Award for Best Bengali Film of 2003.