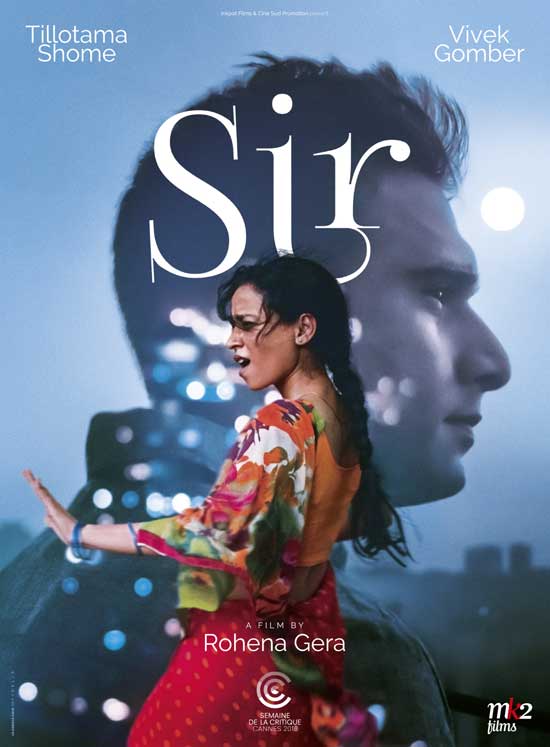 This film was appreciated at Cannes last year and received many good reviews. So I knew that if I got a chance I would surely watch it. The London Indian Film festival gave me this opportunity. The screening theatre was packed and there was not an empty seat.
The story of the film is a very simple one. Ashwin, a young wealthy Indian man has just broken up with his fiancee, apparently just before the wedding was to take place. He is now alone in his flat. He is not really alone as there is also the maid servant who looks after everything. Ratna is a live-in servant so they share this closed space.
They are both from the two opposite ends of the social ladder. He is wealthy, probably did his higher studies in the USA and worked there for a while. His father is in the real estate business in Mumbai. She is poor, barely educated and a widow. But they both have something in common: an unfulfilled dream. He has a half finished novel and she wants to be a fashion designer. And both are single. She is a widow and is therefore as lonely as he is.
This is where the story begins but gradually it shows us how the two lonely souls thrown together by destiny get drawn to each other. He allows her to go for her tailoring classes while she tells him that he should not think that his life is finished because of a broken engagement.
They care for each other and exchange gifts. The more they get attached to each other the more you start wondering how they will get out of this situation.
The story has a very realist end and even though it looks as if it doesn't have a happy one the script actually leaves it open to many possibilities. The interesting point is that the man is more swept away with his emotions while the woman is more level headed and practical. Then he listens to his friend who can see what is going on in his mind and acts on that advice.
The script and direction are by Rohena Gera herself but the end credits show that there is collaboration from the French in many departments such as camera, sound, editing and perhaps also in marketing and distribution. I think there may also be some collaboration in the script. At this point we have to mention that Rohena Gera is married to a Frenchman who is a co-producer too in this film.
The film has been released in France and has had a good commercial success. The French public has given it a lot of critical appreciation. The film has also been screened in the USA where the director has attended many Q and A sessions. And finally, at long last, it is going to be released in India.
The story idea and the script have a ring of authenticity which comes from Rohena's own observations. She is an Indian who went to the USA for her higher studies and on her return found people's attitude towards their servants difficult to accept. Those who have never left India cannot see that this feudal attitude is not in synch with the times in which we live. In Europe as in America there is an underlying sense of equality that has yet to enter the Indian life.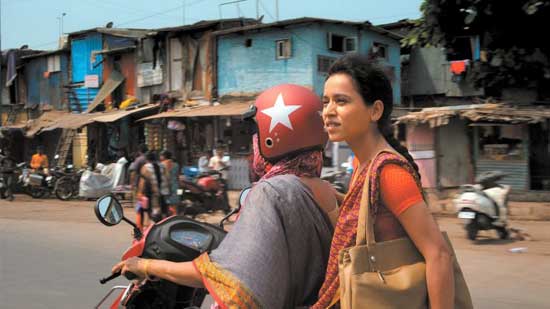 What struck me as remarkable was the body language of the actors. Tillotama Shome and Vivek Gomber have the right gait, way of standing and moving. Rohena mentioned that the actors went through a workshop and special focus was given to this aspect of their acting. Their voice intonations are just as it should be. Tillotama has shown great skills in portraying the quiet yet ambitious maid. It is a fine balance to keep. She has managed to show how a servant keeps her social position yet doesn't stop from showing compassion for a man who is evidently suffering. Vivek on his part has the right expressions of someone who is locked inside his suffering.
The script is tight and the audience is engaged throughout without losing interest. The progression of the relationship is a very delicate one and is handled very well. Rohena manages very well to set up the end by including a scene where Ratna spills a glass of drink on the dress of one of the friends who come to Ashwin's house. This scene looks like it was written to show us how the man's wealthy friends look down on the poor maid but it serves the double purpose of preparing the end.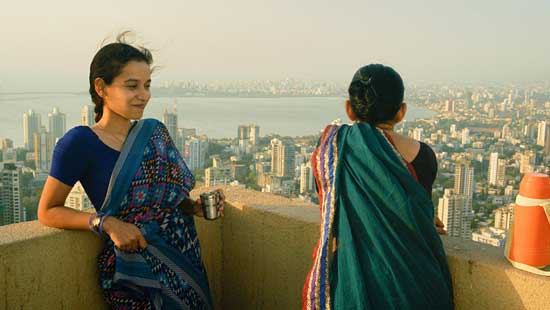 I would like to make a special mention about Gitanjali Kulkarni who plays the role of the servant who works in the next flat. Gitanjali is a very well-known stage actress, seen recently in Atul Kumar's production "Piya Behrupiya". To see her play the role of the servant so convincingly is to witness the range of this actress.
This is where lies the strength of the film. Even the smallest roles have been very well drawn out and executed. There is a great attention to details on the part of the director. Much of the back story is told in the dialogues that take place between Ashwin and his mother or between the employees of the building. This helps the story to go forward without wasting time in telling us all that happened before.
I am particularly happy to see how Tillotama Shome has grown in her art and in fame. I always felt that she had not been given the opportunity to show her talent. And don't think that because she played the role of the maid servant in Mira Nair's "Monsoon Wedding" she has nothing new to offer. There is so much to discover and in the way she performs this role.