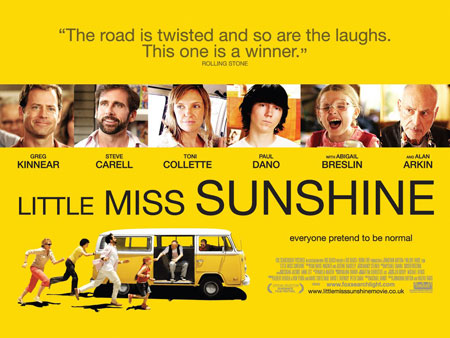 This is one othe funniest movies I have seen in a long time. It was made in 2006 and was nominated in four categories for the Oscars in 2007, including Best Picture. The film won the best original screenplay and best supporting actor awards that year.
The story is about a totally dysfunctional family in which the only sane people are the wife and the daughter. The wife's father has come to live with them after being thrown out of a care home for taking heroin and her brother has just been brought back from the hospital after a failed suicide attempt. The husband is a life coach and is not doing well. Also with them is the teenage son of the wife from a previous marriage.
The little girl, who is called Olive, has just received a phone call informing her that she has qualified for the "Little Miss Sunshine" contest. But it looks as if getting there is going to be impossible. The only way they can go is by taking everyone along. So that is the final decision and they start off on a mad journey. Anything that could go wrong does go wrong. And more.
Finally, they make it to the contest.
Alan Arkin, who plays the grandfather of Olive, won the award for the best supporting actor. But the one who had me absolutely rolling with laughter by his acting was Paul Dano who plays Olive's half brother. The screenplay comes from the pen (more likely a laptop) of a first-time writer and the direction is handled by a husband and wife team. It is their skill that brings out the individual characters and each one's idiosyncrasy. This tragi-comedy picks up such a pace that when it ends you realise that you have lost track of time.
The role of Olive is played by Abigail Breslin and she has a natural look of innocence. It is so touching that you get pulled into the story out of sympathy for her. She really carries the whole film and is truly the ray of sunshine in this story.
If you need cheering up go get the DVD of this movie and watch it.