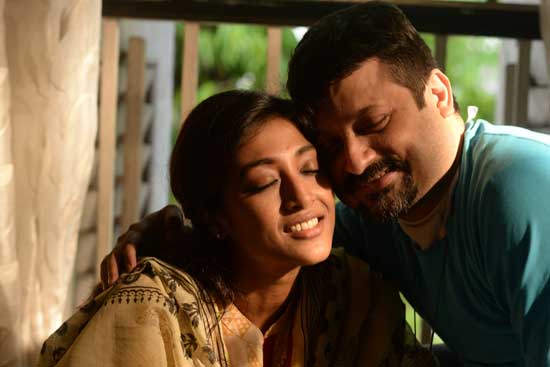 If you have had a smoker in your family you will appreciate this film more than those who don't know what it is to see someone destroy himself with cigarettes. Directed by Nandita Roy and Shiboprosad Mukherjee the film is inspirational and moving.
This story of the film revolves around a radio jokey Arjun (played convincingly by Shiboprasad) who loses his voice after being diagnosed with cancer of the throat. After the operation in which his voice box is removed from his throat he has to learn to speak all over again with his esophageal voice, like belching. In this path to a new life the one who helps him is a speech therapist.
This is the story of a man overcoming his difficulties to start a new life against all odds. He is helped by his wife who has to support him and also encourage him. This role is played very well by Paoli Dam. She was the ability to speak with her eyes and that is what makes her such a joy to watch.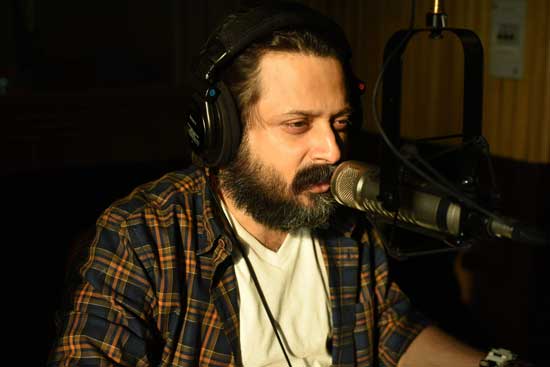 The other actress in this film is Jaya Ehsan who plays the role of the speech therapist. She is a Bangladeshi actress who has acted in quite a few successful Bengali (Kolkata) movies. She is the exact opposite of the wife. She is full of spirit and has a visible enthusiasm that pushes Arjun, her patient, to continue his efforts. Although Jaya has put a lot of effort into her role somehow she looks very self-conscious.
The story takes into account the social and personal implication of a man who loses not only an important part of his body but also his livelihood and his self-esteem. I have nothing but admiration for Nandita Roy who chose such an unlikely subject and has been able to convey her message without it soundings too loud or frightening. She has been able to show this story of a medical condition as if it was a love story.
The highest praise must go to Shiboprosad himself who has not only played the main protagonist but has also written the dialogue and co-directed the film. Apparently, he had done so much research on the subject and also learnt to speak with the esophageal voice that Nandita Roy thought it would be easier for him to play the role himself rather than explain everything to someone else and to teach it to him.
The script is balanced and has given time to all the different aspect of the problem. Perhaps they could have added a few scenes of Arjun's life before the tragedy strikes then we could have made a comparison. The casting is good but unfortunately Paoli is taller than Sbiboprosad so it looks odd at times. The aunt is irritating instead of being funny.
The strong points of this film are the script, cinematography and music. This comes from the hands of the leading film-makers of Kolkata and as they have an impressive body of work one can safely watch it knowing it will be neither tasteless nor boring.