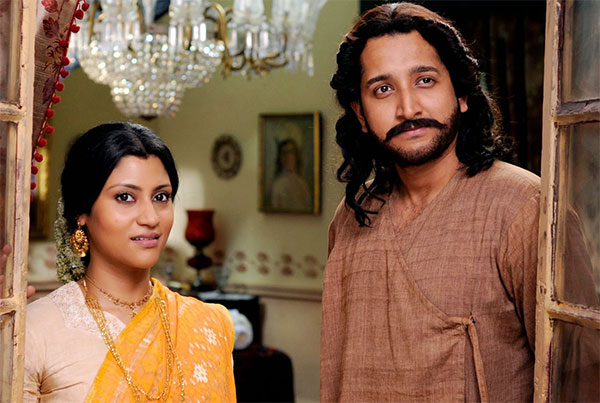 This film was released last year and I had been eagerly waiting to see it. So I watched it with great eagerness and I wasn't disappointed at all.
The film stars Konkona Sen Sharma and Parambrata. Both are among my favourite actors so this was an added joy. The director is Suman Ghosh who lives in the USA and he has himself written the script. The film has a slow pace which gives us the feeling of how life was slow-paced in those days.
The story is a well-known episode in the life of Rabindranath Tagore. In the spacious mansion in which he grew up his closest friend was his sister-in-law who was only a year older than him. She was married to his elder brother Jyotiindranath who was 11 years older than her. Naturally Rabindranath and Kadambari Devi developed a very close relationship. She was the first one to read his poems and he was the one to whom she could open her heart. When Rabindranath got married Kadambari found it hard to accept the distance that was created between them. Four months later she killed herself.
This is what is generally known about Kadambari Devi but the film takes the pains to show us that there were many other factors which led to the drastic step taken by her, so that the finger of accusation doesn't point at Rabindranath. Suman Ghosh very carefully creates the ambiance in which she lived. She was alienated by the ladies of the family because she came from an ordinary family unlike them. Her father was an accountant in the Tagore household but as he belonged to the Brahmo Samaj his daughter was chosen for Jyoti as it was difficult to get girls from wealthy and cultured Hindu families for Brahmo men.
She and her husband had a loving relationship but they had no children. He was deeply involved in his shipping business and at the same time had a theatre company. He spent all his evenings at the theatre and in the company of various actresses, most notably with Noti Binodini. Kadambari was not a ravishing beauty but she was an intelligent woman and interested in literature.
There are some beautiful scenes between the two main characters. And the art direction is satisfactory. The cinematography is captivating.
Two things made this film special for me. Firstly the melodious song of Vidyapati sung with so much feeling by Rashid – our Rashid who used to come to Pondicherry when he was a teenager to sing at the Ashram Theatre. And secondly Konkona's very moving performance.
This is not an easy story to tell and in reality we will never know what exactly happened between the people involved and what was really said by whom. But through this tale we are made aware of the difficult lives of women, who had no right it would seem to ask for affection. In spite of the wealth and the comfort of so progressive a family Kadambari had an empty life. She and Rabindranath were intellectual companions and that fulfilment was suddenly lost.
Many say that the story of Satyajit Ray's "Charulata" which is based on Tagore's novel "Nashta Nid" is actually inspired by the real-life story of Kadambari and Rabindranath. Tagore seems to have never got over that relationship. When we watch the film we already know what is going to happen to Rabindranath. That he will suffer all his life. She is gone but he is there and the story only ends when Rabindranath dies.
The story of Jyotirindranath's relationship with Nati Binodini is also portrayed in Rituparno Ghosh's film "Abohoman". I also read the autobiography of Nati Binodini but, as expected, there is no mention of Jyotiindranath.
For those who don't know much about the Tagore family or Bengali literature this will still be an interesting film as it gives us an insight into the difficulties that women in India faced, how their lives were limited to the house and the only people they interacted with were those who were within their homes . At the same time the film reveals to us how, in spite of so much progress, human nature is still the same.
Because of the nature of the story the visuals are mostly interiors, and much of the action is inside people's minds. So be prepared before you start watching it.