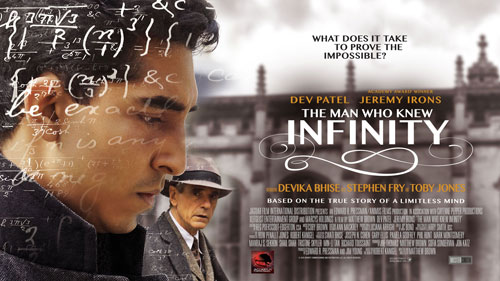 About 8 years ago I saw a play in London which showed scenes from the life of Srinivasa Ramanujan, the Tamil mathematician whose genius was recognised after he went to Cambridge University. Since then I have had a curiosity to know more about him.
A couple of years ago I found a DVD of a Tamil film, simply called "Ramanujan", which showed his life. It depicted very vividly and in great details the life he lived in Madras and Kumbakonam before he left for England. Evidently, the parts which take place in England were not without their flaws. But I liked the film for its sincerity. It was a heartfelt narration of a story that is so little known about a man who was a giant in his field. Ramanujan died in his early 30s so it is a very sad story too. To me this was the life of Ramanujan seen from the Indian perspective. And even though we see him singing with his wife shortly after their marriage, in the typical Indian cinema style, I still felt that there was a lot of truth in the way details of the story were depicted.
When "The Man who knew Infinity" was out in the cinemas I couldn't wait to see it because this would be the point of view of the British. I also knew this would be the technically better film. Moreover it had one of my favourite actors, Jeremy Irons. Fortunately I saw the film on the big screen and enjoyed it. Once again, I can say that although this film had a better script and had some very good actors it was not without its own flaws. But if I put all the flaws on one side it would still be a trifle compared to the good intention of making a film on the life of this genius.
Dev Patel doesn't have the physical resemblance neither could he portray the genius as the shy and ill-at-ease man that Ramanujan was when he was at Cambridge. But Dev was sincere in his efforts and that is what counts in the end. In the Tamil film the actor (Gemini Ganeshan's grandson) playing Ramanujan has a greater resemblance in appearance and in body language but Dev has the star appeal. And it is his name that will bring the audience into the cinemas, so his presence in the cast is justified. Physical resemblance is less important than the overall success of the film.
The role of the wife too was slightly out of synch because in real life she was a teenager when her husband left for England and must have had reactions and feelings which were very different from what we see on screen. Nor would she have been allowed to walk alone on the beach in Madras when her husband was in England. I have first-hand experience of how Western film-makers don't understand certain cultural subtleties and want to impose their own way of looking at things on the characters that they are showing on screen.
Jeremy Irons is very convincing as the eccentric mathematician. Actually, Hardy was only ten years older than Ramanujan but here he looks much, much older than that. Irons is really in his elements in this film and you can see that he is enjoying playing Hardy. All the scenes which take place in Cambridge are very beautifully shot and have a very authentic look.
On the one hand his personal life was full of difficulties and sadness but on the other hand Ramanujan's work has been a gift to mankind. He is one of the iconic figures of India and deserves to be better known.
Moved by his story, I wanted to see his house in Kumbakonam but unfortunately I found it closed. However, I learnt something new when I read up about Namagiri Thayyar. Ramanujan always said that all that he had written down were revealed to him by Namagiri Thayyar, the goddess worshipped by his family. He said that she wrote those equations on his tongue or showed them to him in his dreams. He also said that a mathematical equation was nothing to him if it wasn't a thought of God. I found out that Namagiri Thayyar is the form of Lakshmi who is worshipped at Namakkal as the consort of Vishnu in his incarnation as the man-lion Narasimha.
I heartily recommend this film to everyone.