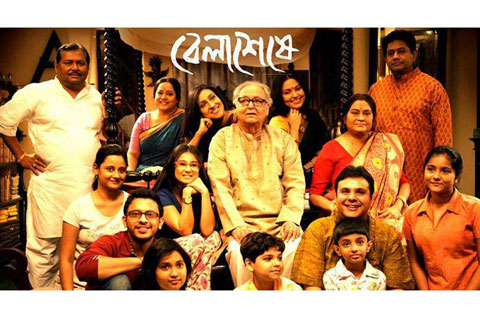 This film just shows how far Bengali Cinema has progressed when it comes to themes and stories. Bela Seshe is about an old couple who are going to complete 50 years of married life when the man announces that he wants to divorce his wife. I do not want to reveal anything more about the story because I do not want to disturb the director's work of revealing bit by bit the workings of the protagonists' minds.
The screenplay has been written by two people, a man and a woman, Nandita Roy and Shiboprosad Mukherjee. This combination itself is perhaps the secret of the film because the details of domestic life seen from the point of view of a woman can add many layers that are invisible to a man to the narrative of a film. Nandita Ray is 60 and Shiboprosad is 41 so that also adds to the creative process. The freshness and daring of one can be balanced by the wisdom and experience of the other.
The reason why I wanted to see this film was because Soumitra Chatterjee and Swatilekha Sengupta team up after 30 years! I had loved 'Ghare Baire' and it remains one of my favourite films even today. I was stunned to see how much Swatilekha had changed physically but her skills as an actress were intact. Let us not forget that she belongs to the world of Bengali theatre and acting is in her blood. Soumitra, on the other hand continues to be good looking and charming. How unfair it is that the man continues to be cast in romantic roles, even being cast as the old husband of the luscious Radhika Apte in 'Ahalya' while the woman has lost all her physical beauty and can only be fit to play a grandmother.
It took me a while to recognise Swatilekha but once I did I was just full of admiration for what she was doing. From being Satyajit Ray's Bimala in 'Ghare Baire' with those expressive eyes she has become granny and loving mother to a brood of adult men and women. The contrast is so sharp that it makes you sympathise more for the character she plays. One must remember that Swatilekha was totally rejected by the audience when 'Ghare Baire' was released and she suffered immensely from it. She admitted in an interview that in fact she had started thinking of suicide. It is true, the audience can be ruthless. In her case, in spite of being a very fine actress, who had years of experience from the stage, she was not considered good enough by the audience because of her unconventional looks. People expected a beauty like Madhabi Mukherjee who played the lead in 'Charulata'.
'Bela Seshe' was so successful that the screenplay has been published as a book. At the book release event Sandip Ray, the son of Satyajit Ray, was full of praises for the film. The other path-breaking point is that this film has had an all-India release with English subtitles and it was Eros international which distributed it. This is also perhaps the first Bengali film to be released simultaneously overseas too. This film brought families into the cinemas and enjoyed the kind of commercial success that has not been the lot of many Bengali films and it proved to be as interesting for the older generations as well as to the very young.
The story deals with the love that grows and remains among married couples of an older generation, who have been brought together through the system of arranged marriages. Theirs is not the passionate love stories that we have seen in Bollywood films but the quiet affection that binds them is stronger than passion. In this film the very definition of marriage is discussed and we see all the other younger couples learning something from the old couple. Each of the married children realises where his or her own marriage has failed and what needs to be remedied. We start thinking about how generations of Indians have gone through this form of coupling without any great difficulties and yet now that women are educated and mobile the whole question of compatibility becomes so important. The problem with passion is that if it has come all of a sudden it can also vanish equally suddenly. What had taken time to grow will probably last longer too.
The film has an ensemble cast with many known faces from Bengali cinema and they all create the beautiful back ground needed for the main couple of the film. The dialogues are written taking into account the idiosyncrasies of the characters and sound very convincing. Sohini Sengupta, the real life daughter of Swatilekha, plays a small role, a guest appearance, but makes her presence felt.
There are minor hitches in the script but one can easily overlook that and enjoy this very engaging film. It has originality and depth, good performances and dialogues. This is such a beautiful film that I wouldn't mind seeing it twice.