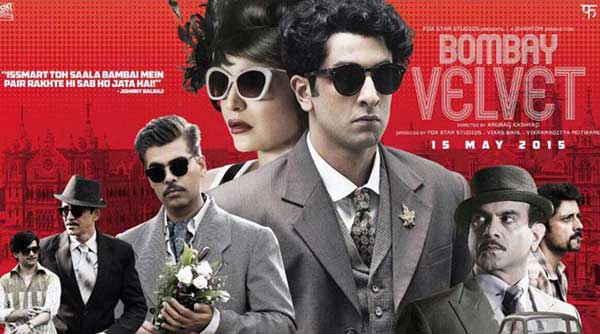 This is not really one of my usual reviews. This piece is for those who have already seen the movie. I am just sharing my experience.
This was a film I was really looking forward to seeing. In fact, I had already seen it in its unedited version before it was released but it was in very special circumstances. And it was really special. After all, how often do you get to see a film before its release and screened by its director? You may get that opportunity if you are part of the cast and crew of the movie. But I saw this film as part of a screen-writing workshop with Anurag Kashyap. He showed it to us as it was in its final draft, when there was still some editing work to be done. So the version we saw had 20 extra minutes. And we had to say which 20 minutes could be removed. I assure you it was tough to say. That's when you understand the difficult job of a film editor as well as the responsibility of the director who has the final say about what will stay and what will go.
Firstly, let me tell you how sad I am that the film turned out to be a commercial failure to the extent that Anurag is saying this loss will haunt him till the end of his life. He had really put a lot of work into it. But cinema is a medium that involves not just work but so much money. Because it happens over a long time and involves so many people in the end you can't see it dispassionately. So when that money does not come back to the investors it is a loss that makes even the artistic team feel that they did a bad job.
The version I saw was more about the history of Bombay but the final released version is more of a love story. In that earlier version the whole story of Rosie's fake death and escape was quite differently presented. There was also a scene where the police inspector and his aide go to the funeral in Goa and one of them hums a song from the 70s movie "Ram aur Shyam" and this was supposed to be a hint that the police has understood that the real Rosie is pretending to be her own sister. But luckily they removed that scene because no one today will remember that movie where Dilip Kumar plays a double role. It was a useless hint. In our discussions post screening, that scene was the only one I had suggested should be removed.
I am saying all this to point out how difficult it is to write a good script. The critics have all said that the script was weak and that no amount of good acting from all the actors could save the movie. I enjoyed the story and thought it was well-constructed. The part about the politician was a bit unclear perhaps. Karan Johar's role was chopped off on the editing table. It was much longer in the version I saw. That's why it was easier to get the complicated details about who was trying to get whom and why. And in the end this was the message that we took away from the workshop. You just never know what will work and what won't. Even the celebrated Anurag Kashyap couldn't get it right. He had come to teach us how to write a film script but he was humble enough to say that he didn't know how to teach anyone this skill as he had not learnt it himself. He had picked it up through trial and error.
To come to the film itself, I think Ranbir did a good job. I also liked the silent and suppressed character of Rosie played adequately by Anushka Sharma. I was particularly impressed with Karan Johar's acting as this was his very first acting role. But most of all I liked the way the era was re-created. The main sets were created in Sri Lanka as it is impossible to get that look in today's Mumbai. The music was very effective too. Meticulous care was taken to get that uncluttered look of the city as it must have been at that time.
When I told Anurag that Ranbir looked a lot like young Raj Kapoor he said, "Also a bit like Guru Dutt." Ranbir's looks did suggest that we were seeing a colour version of Raj Kapoor's black and white movies. There was that desperate desire to go somewhere and also the hopelessly in love hero.
I know that people will watch this film on DVDs and maybe online but this will not bring back the money that is lost. But at least the work will be seen and appreciated. Perhaps some viewers will appreciate some of the scenes for what the director has put in. The film may even bring more appreciation to actors like Ranbir and Anushka. It may bring them more good roles. Nothing is ever a total failure.
At the end of that workshop Anurag told us that the only way to learn how to write a script is to watch hundreds of movies and you will yourself understand what works and what doesn't. But as time has shown, even if you watch hundreds of films you can never know what will work in the end.
Seen from a wider perspective, this film is a part of the new emerging cinema of India. From that point of view it has served a purpose.