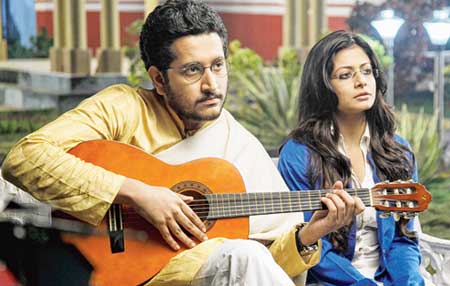 For a couple of years I didn't watch this film because I was sure that it was a pretentious film with people philosophising about life and death. But ever since I saw "Jaatiswar" I was curious to know more about Srijit Mukherjee's work. And now with his new film "Rajkahini" out in the cinemas I am even more curious about his older works.
First of all let me admit that I watched it on youtube, on the screen of my laptop, and not on the big screen. But for this particular film it really didn't matter because the whole focus of the film in on the dialogue.
Here is the story in short. A young woman discovers that her boyfriend of 14 years is in a relationship with another woman and leaves him even though they were about to get married. After this she decides to kill herself. So she goes to her father who is a doctor to get a prescription for sleeping pills and he gives it to her. The father lives with his second wife and has his own life. A young man who is at the pharmacy where she goes to buy the sleeping pills follows her to her flat and asks her to stop trying to kill herself.
He then tells her that he runs a school to teach people how to commit suicide successfully. It's called Hemlock Society. He takes her to his school, which is within a film city where films are shot, and keeps her there for two days. Those workshops where teachers lecture on the various ways of killing oneself is so horrifying that she gives up all idea of suicide. She sees that all the reasons that she has for killing herself – she has broken up with her boyfriend, her father doesn't show any affection to her, she hates her step-mother, she is going to be fired from her job – have no importance compared to the problems of others.
Not only that but she actually falls in love with the man who has brought her there. But he tells her that there is no future in their love because he is suffering from a terminal illness and has only a couple of years to live. So, that is the reason why he is doing everything he can to stop people from killing themselves. His mission is to make people see how precious life is and that one can't end it for problems that can be overcome.
In the meantime the father of the young woman realises that he has neglected her. And now stands up for her when he sees her ex-boyfriend in a cafe with the new woman in his life. It takes a crisis like this for him to realise that his daughter needs attention too. His new wife knows very well that she can never replace the dead mother but she makes an effort to be warm and friendly with her.
The films ends with the ex trying to kill himself when the new woman in his life is not really interested in him. As he is about to jump into the river from a bridge the same man appears and tells him that he can take him to his school where he will teach him how to successfully commit suicide.
The male lead role is played by Parambrata Chatterjee and the young woman's role is played by Koel Mullick. Srijit makes no attempt to hide the fact that this character is similar to Anand played by Rajesh Khanna in the 70s. In fact, he is called Ananda Kar, deliberately. Throughout the film he repeats that he is a movie buff and quotes from filmy dialogues. Parambrata flirts with the girl to make her fall in love with being in love again.
Koel's role is well-written because you see that this character is at fault too. She is not a victim. As the film progresses you realise that she is a very sloppy person, shabby and unkempt. Because of this she is about to be fired. At the same time, having lost her mother some years ago she has not recovered from that and as her father has remarried she is alone. The viewer can see that she was looking for a father in her boyfriend. And that is dangerous. It is clear that the boyfriend didn't want a shabby girl who treats him like a father. If he hasn't married her in 14 years then there is something wrong already. Instead of seeing what was wrong with herself the young woman starts blaming everyone else.
The film can be called a dark comedy because it is making fun of a serious matter as suicide but on the other hand it is holding up a mirror to Indian society of today. India has a very high rate of suicides and people are influenced by cinema to do something drastic. Srijit has done the right thing to use cinema to try and reverse that trend and to show to the youth of this country that this is not a solution. The film has a strong message and by presenting with humour he makes the film enjoyable too.
There is a surreal aspect to the script but Srijit manages to pull it off. It could very easily not have worked. The actors have given good performances. The set design is good. The only thing that bothered me was the way one could hear every breath that Koel was taking – unless, of course, that was done deliberately to make us understand the inner turmoil of the character she was playing.
It may not be everyone's cup of tea but this film gives an idea of the unusual ideas that are now pushing Bengali cinema. It is because the directors are being backed by producers who are willing to take risks that new intelligent films are being made. Let the masses have what they want. At least the intelligent viewer has something to watch too.
If you are a Parambrata fan then you should watch this film.