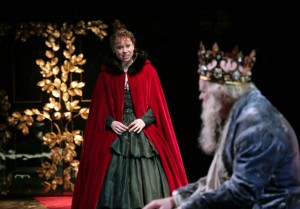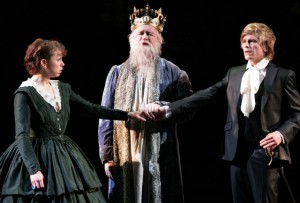 Yesterday I went to see a play at the Olivier Theatre within the National Theatre. It was a bonus that the play was one written by Shakespeare. This was the fulfilment of a long-cherished dream. I had already taken the backstage tour in 2007 and marvelled at the world that lies behind the stage.
The play, All's Well that Ends Well, was presented as a fairytale. The décor and the costumes followed this theme and what would have been an unnecessarily complicated story turned out to be an enchanting experience. In fact, the costumes jumped from one historical era to another without disturbing the story- telling precisely because it was expected to be a fairytale and not a factual presentation.
The lead actress Michelle Terry was very effectively cast as Helena. What kept the audience spell-bound was her earnestness, her very sincere expression of her love for Bertram. How fine an actress she is can be judged from the fact that her honesty shone brighter than the old King's crown or her sparkling "Cinderella" shoes, or even the twinkling stars against the dark sky of the backdrop. The two older characters, the King and the old Countess were played with great conviction.
The way the story moved, without wasting a moment between scenes, shows the skill of the director, Marianne Elliott, whose imaginative touches throughout the production prove that one can take a Shakespearian play and make something modern and thoroughly enjoyable out of it. The innovative choreography of the opening scene as well as the closing one is just one example of her creative energy at work.
I watched the Saturday afternoon matinee show and was a bit disappointed to see that a lot of seats in the upper circle were empty and the stalls were full of very old people. A pity, because this is really a play for the young.