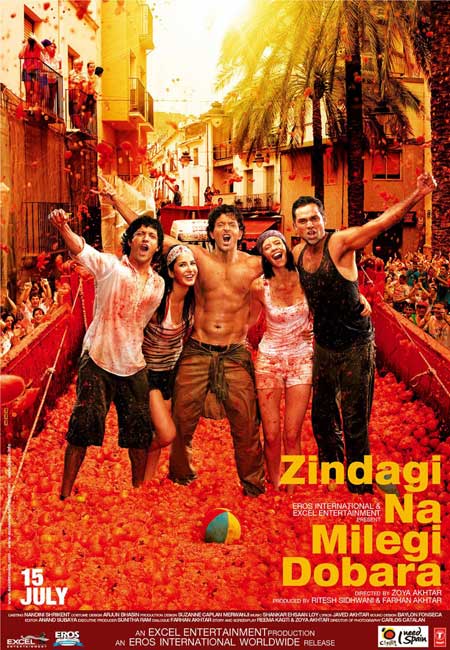 After watching Zindagi Na Milegi Dobara one has the feeling that it is the sister of Dil Chahta Hai. That's because the director of Zindagi Na Milegi Dobara, Zoya Akhtar, is the sister of Farhan Akhtar, the director of Dil Chahta Hai. The two films are about friendship between three young men, male bonding and growing up. The women are part of the script but one tends to forget them when one thinks of the message of the film.
The three young men are very different one from the other and the inner dilemma of each of the three men is brought out very skilfully. The film ends on a high note, as each one finds a solution to his problems. As in a good novel, a good film is one where the protagonists evolve and are transformed.
To most Indian viewers the film will be a free trip to Spain, where they will get an opportunity to see all the tourist attractions and get an introduction to Spanish culture. In fact, this travelogue aspect of the film softens the psychological pressures that the characters are going through and which the viewer has to share. By eliminating India altogether has Zoya Akhtar created a silence in which we could listen very attentively to the story and the problems faced by the three men.
It's good to see that friendship is back in the limelight and romantic love is put on the sidelines. After all, friendship was once a common theme in Hindi films. As my friend and novelist Christine de Rivoyre says, "Friendship is stronger than love." So even though we see Katerina Kaif and Hrithik Roshan enter an intense relationship, what remains as the aftertaste of the film in the mind of viewer is the depth of friendship and how it acts as a fulcrum on which the three young men are raised higher in their inner growth.