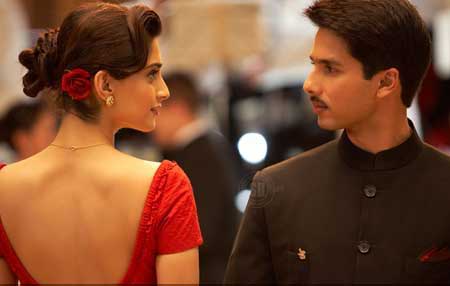 There was not much choice at the DVD shop when I went there last week, so I got a DVD of Mausam. The irritating thing is that there is a very good film by that same name which was made ages ago and one can't help remembering it the moment one pronounces the name. It brings back flashes of scenes with Sharmila Tagore and Sanjeev Kumar.
This new film will not be remembered like the old one is for many reasons. It tries too hard to be a fantastic love story. That kind of story-telling is gone and the young viewers can't relate to those emotions any more. The story is fine. Many critics have said that the story is hard to believe because in this day and age you can't lose track of someone. Actually you can. And this story is set in the 1990s when instant connect didn't exist. What doesn't quite come off is the chemistry between the characters.
The one thing that really makes me laugh outright is the way Sonam Kapoor goes to Scotland and becomes a ballet dancer. I wish I could go to Pankaj Kapoor and tell him classical ballet isn't Odissi. You can't just go from rural Punjab at the age of twenty and become a ballet dancer in a dance academy in Edinburgh. Ballet requires years of training from childhood. A dancer's body is formed by years of exercises and practice. There are movements you just can't do if you haven't done it from age 7 or 8. A young woman of twenty or more who has never done any physical activities will never ever be able to do a single sequence of the barre exercises. A woman who was all wrapped up in sawar-kameez and dupatta till early adulthood can not suddenly get into tights and tutus.
And the scenes of ballroom dancing! I couldn't take that either. I have seen young Indian women who have grown up in Britain and who still look at ballroom dancing as something obscene. A muslim family in this film goes totally western within a couple of years of coming to Scotland looks too far-fetched when they haven't been through a western education.
Why do directors go into territories that are totally alien to them? Why don't they do a bit of research at the script level?
I know that the name "Mausam" will only evoke the old film in my mind. This film will always bring back to my mind the hilarious scenes of Sonam Kapoor trying to do ballet!