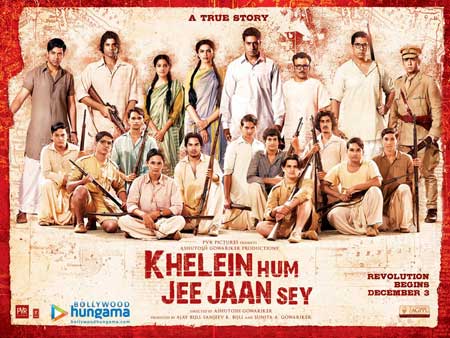 It took me months to get hold of a DVD of this film and that fact alone shows how badly it did commercially because in India DVD piracy is a fact of life. You can get a DVD copy of any film for thirty rupees these days. Again it is no surprise that this film went unnoticed by everybody and no one could even remember this name within a year of its release. History just isn't anybody's cup of tea in India.
Clearly this is a labour of love because a director like Asutosh Gowariker isn't that ignorant about people's preferences and yet he went ahead and made a film which tells the story of the Chittagong Uprising in all its details bringing the past alive before our eyes. Unfortunately there are very few people who actually know about this episode of Indian history and who can connect emotionally or intellectually to this story. Ask anyone under the age of 40 if they had ever heard about this daring attempt to shake the British Raj and you will hear a resounding "No". It was not only a tale of courage but also a very tragic tale.
How can it be that such a heart-rending story of our Freedom Movement is so absent from our curriculum? It is quite possible that the stories of the Bengali Revolutionaries were deliberately suppressed. Somehow people, including the Bengalis themselves, feel ashamed to admit that there was a violent revolution. The Indians want the world to believe that independence was won through Gandhian non-violence. Of course, this will also make the Nehru-Gandhi legacy continue, making it more convenient for everyone.
On the plus side of this film's production is the casting. Abhishek Bachchan was very aptly chosen to play Master-da. After all he has a very Bengali face, being Jaya Bhaduri's son. He also had a purity about him which was needed for that role. On the other hand Deepika Padukone was not convincing at all. The way she chose to wear her sari, which was too low at the waist for a character who is supposed to be fighting for the country, clearly showed that she was more interested in looking attractive than being Kalpana Dutta.
The sets looked authentic, specially the exteriors of houses, but the minor characters didn't look too real. There was something in their clothes and hair-styles that wasn't quite right. Having said that, it has to be admitted that the research that has gone into writing of the script is amazing. The film is based on the book by Manini Chatterjee (Do and Die) who is the real-life daughter-in-law of the main female protagonist, Kalpana Dutta. The producers may not have recovered the money that they invested into this film but they deserve our gratitude for bringing to the world of cinema such an important collection of historical facts. So what if the entertainment -crazy public rejected this very well-made film? It can become an invaluable part of audio-visual teaching material in class-rooms.