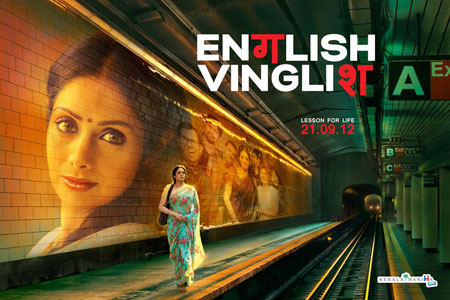 I am a bit disappointed that, at all the glittering award ceremonies that took place recently, English Vinglish did not receive more awards. In my eyes this was by far the best film that was produced from the Mumbai film industry. The story must not have seemed anything much on paper, but every Indian woman who has seen it knows that this is a story that takes place in millions of homes across the country. In fact Gauri Shinde said on receiving an award, that indeed, her own mother did not speak English, and that is what must have triggered off the story in her head. The plot can be summed up in a few words. A young middle class housewife, who cannot speak English, is looked down upon by her husband and children. By her own efforts, she joins a Spoken English class, and goes beyond her limitations and proves to her family members that she too is worthy of respect. Most people do not understand how a film can be totally different when it is written and directed by a woman. Gauri can see the details that would be outside a man's scope. She is actually telling the story from the inside.
It goes without saying that the actors, all of them, have made the film so convincing. With another set of actors it may have been something else. Even the small roles were done so perfectly. Sridevi is a seasoned actress, so getting her to perform could not have been that difficult. Or so we think. But imagine, how hard it must be for an actress of her stature who is chased by the paparazzi, and whose smallest life event is reported in every film magazine, to behave as the woman who is not given any importance even by her own husband. Therefore let us not take for granted her efforts in this film. Adil Hussain, who plays her husband, does a marvellous job of acting the role of the average insensitive Indian male. But the real cherry on the cake of this film is the French actor, Mehdi Nebbou, who plays the role of Laurent.
He brings an element of freshness that uplifts the film. He is the character who gives to the whole story that twist which makes it an international film. Not because he is a non-Indian actor, but because he portrays so naturally the European male's behaviour in relation to a woman. He respects the heroine, all the while showing her that he has a certain affection for her. There is a purity in his eyes that would have been difficult to get in an Indian actor.
Much of the story takes place in the USA and that is the moment when the heroine finds herself alone, on her own, and discovers her true strength. By placing the story in the USA, Gauri gets the opportunity to take the heroine out of her usual humdrum life. Also, there arises a tremendous need for her to learn English. And this is what propels the heroine to take that step in her life which she would normally never have taken.
Most Indian husbands are not even aware of the way they destroy a woman's self-esteem and yet they are totally dependent on her for their day-to-day life. One hopes that this film brings home this point to all Indians. When children grow up respecting everyone, when men understand that they need the women around them, then we will have an equal society. Everyone in this world has a skill that no one else has got. And every skill, whether it is cooking or organising a home, is worth everyone's respect.
The film awards came at a time when the country was burning with the anger of people against the Delhi rape case. What better answer to that could we have given than upholding such a strongly feminist film as the best contribution of the film industry?
I feel that the critics who sit there deciding the awards should all take a course in acting. Because this film looked effortless, everyone thought there was no effort in it. Just because somebody was not shouting out the message to them it completely went over their heads.
I thoroughly enjoyed the film, and I feel it was because I could understand the French dialogue. I wonder how much of that the Indian audience caught from the intonations and the facial expressions.