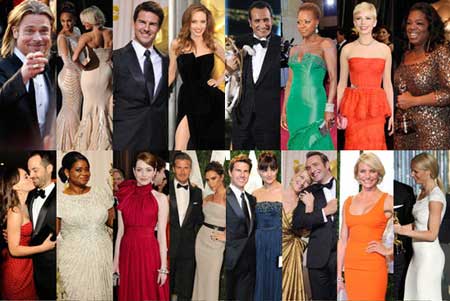 I woke up a bit late on 27th and found that I had missed the first one hour of the Oscar ceremony but once I found the channel which was telecasting it live I could not leave my seat. It was really well presented by Billy Crystal and the awards were mostly what had already been predicted by many.
My favourite moment was when Meryl Streep got her award. She has been my favourite actress ever since I first saw her in Out of Africa. She has such a presence that she draws everyone's attention just by being there. The most difficult thing for an actor is to portray a real person on screen, especially if that person is well-known and is still alive.
I was very happy for the awards that went to The Artist. The French have a passion in everything they do that makes them such good film makers. Actually, the Lumiere brothers invented cinema, so the French have a claim to the top slot in the world of moving pictures that no one can take away.
I am a faithful fan of Brad Pitt and was a bit disappointed that he didn't pick up any of the statuettes. I read that he and Anjelina Jolie had been at the venue since the early hours of the morning, so it must have been a bit sad for Brad not to have received any awards. I watched Terrence Malick's Tree of Life and even though I liked it I knew it would not get any votes as far as Oscars were concerned. The film was so unusual and so philosophical that it may not be everybody's cup of tea.
One of the journalists on BBC said that she found the reactions of some of the winners of the awards a bit too much, "over the top" as she said. But really can one ever understand what happens to the person who is given so big an award? I think the reactions of actors can only be dramatic because, after all, they live in their emotions. When so many cameras are relaying that moment to countries across the globe, when one is handed the award that every single person who is in any way connected to the world of cinema dreams of receiving, can one remain unmoved?
I would go so far as to say that I found Cristopher Plummer extraordinarily composed when his name was announced for the award for the best supporting actor. For those who may not know, he is the actor who played the father to those naughty children in The Sound of Music. Imagine being such a popular actor for so many years and receiving an award only this year. As he very wittily said, "Where have you been all these years?" looking at the trophy.
I am sure I will find the first part of the ceremony, which I missed, on some channel or the other and catch up with all those funny things that Billy Crystal said and which I have only read in the papers. Only a very good actor can maintain a poker face after having cracked a really good joke. Billy Crystal said that Meryl Streep deserves an Oscar for looking as if she was really happy that someone else won an Oscar every time she was nominated and didn't win. But he himself deserves an Oscar for not laughing at his own jokes.