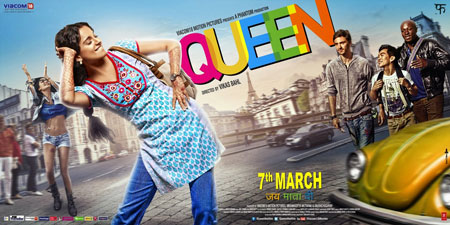 Vikas Bahl's recent release Queen is in a class of its own. It has broken the old stereotypes and tells a story in a refreshingly different way. This is the first film in a long while which I feel like watching once again.
First of all, hats off to Kangana Ranaut. She has done something that no other Bollywood actress could have had the guts or the talent to do. For someone who was the embodiment of glamour in "Fashion" it must have taken a lot out of her to act the part of this unglamorous and unsophisticated woman who is the main protagonist of the film, Rani, the woman whose fiancé ditches her at the last minute and tells her that he can't marry her. The reason he gives is that as he has spent some months in London he thinks she is not good enough to be his wife.
After being told this Rani takes a short time to get out of the psychological pit into which she has been pushed. She decides to go to Paris alone, with the ticket that had been booked for her honeymoon. From then on she rises, a step at a time. She manages to communicate even though she doesn't know French. She manages to make friends with people and realizes that there is a world where morality has no meaning. Survival is the name of the game. One by one all her ideas about life are turned upside down and she appreciates people for who they are. And she is appreciated for who she is.
The best thing about this film is the way the story is told. Even after Rani starts her road to self-discovery she continues to speak like a middle class Delhi girl. She doesn't suddenly become a smart, worldly wise woman. I loved the way she tells her Santa Banta joke. The situations in which she often finds herself are true to life, although in the scenes with the Italian restaurateur there is something that doesn't quite gel. It could have been given a little more time and attention
The team which made this film – Vikas Behl, Anurag Kashyap and others – have all travelled to Europe and been through the experience of being in an alien culture where they have found themselves quite lost. Whether it is food or language or climate or having someone to talk to, this feeling of being a fish out of water is something many Indians have experienced, men as well as women. The UK is a different place. At least in London one can never be too far from an Indian or Indian culture. But Europe is another planet. The scenes have been created from real life experience and that is why they ring so true.
The point of the story, as in English Vinglish, is how a woman discovers her own strength, and understands that she is capable of much more, when she is outside her own culture. It is only when one is outside the world where one has been brought up, and where people have put you in a box with a label, that you can see who you really are. As long as a woman is in the little community of friends and relatives she plays the role she has been asked to play. But once she is outside that circle of preconceived ideas she is free to experiment and think for herself.
I watched the second half of the film with my mouth open. My jaw just fell – I was in a state of total disbelief. How could anyone have told my story to the whole world? So much of this film, in spirit, was what I had myself lived in Paris. I could identify myself with Rani so easily. The only difference was that I had been to Paris alone in an age when there were no mobile phones or the internet. The only way to communicate was by landline phones and I often called home from pay phones in the streets. So I was totally cut off from India.
I can still remember the stress of crossing the streets alone. I used to do exactly what Rani did, stand behind someone else. I remember being totally taken aback when anyone paid me a compliment because in India I had never heard that kind of appreciation. In Paris I learnt to take quick decisions, to make friends on my own, to find my way, to even dream and to think with my own head. And I came back a completely different person.
I remember that when I boarded the plane to return to India that sentence from My Fair Lady kept ringing in my head, "A girl becomes a princess when others treat her like one and not when she learns to behave like one." And this is indeed what happens to Rani. She becomes a queen when people treat her like one.
I feel that the film should have had a punch at the end. There should have been a scene showing how Rani goes on to do something unusual, like open her own restaurant or enroll for business studies. Also, there should have been an additional scene showing that Rani's parents somehow relied on the aunt in Paris to look after her otherwise it is surprising that they actually did allow Rani to go to Paris absolutely alone.
I cannot end this review without saying how wonderful Rajkumar Rao was in his role of the East Delhi man who thinks his woman should behave in a certain way. He really lived his character. He represented so well that class and that mentality. His body language is just right as is his air of superiority.
Films like Lunchbox and Queen have finally brought Indian cinema closer to the European sensibility and it will now be appreciated by a larger non-Indian audience. However, the humour of Queen can only be fully enjoyed by Indians who understand the subtext. Vikas Bahl, I look forward to seeing your next film.