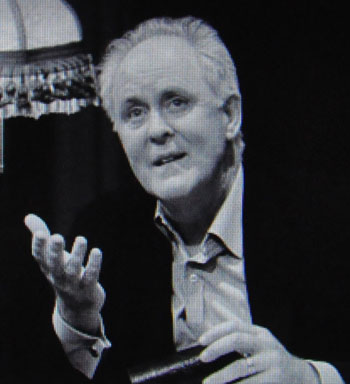 Last night we went to the National Theatre to see a performance by John Lithgow. It was something I had never seen before – an actor telling a short story. No, he wasn't reading it. He was actually telling it from memory, enacting the whole story as he went along. The joy of hearing a story from a famous actor like him was doubled as he chose two stories which were particularly well written. The first one was from P. G. Wodehouse and the second one was written by Ring Lardner. One was funny and the other was tragic but with shades of black humour.
It was amazing to see how one man could hold the attention of the audience for two hours on a stage. As I knew him from his television show "Third Rock From the Sun" I did not expect him to have such a phenomenal memory and was absolutely in admiration at this feat.
Yesterday evening was special to him as much as it was to us. He announced at the start that it was his 64th birthday, something I already knew, and that it was the first time ever that he was on a stage in London.
We wish John many happy returns of 19th October.