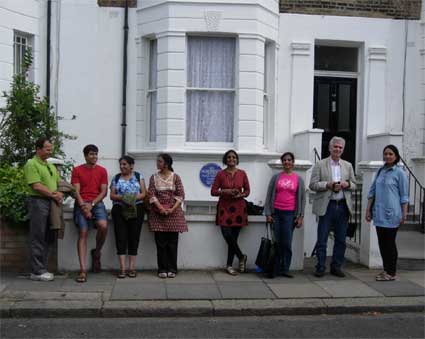 On 24th July we took the train to Hammersmith and waited for the others. One by one our friends turned up and the group got bigger and bigger. By 11.30 we started walking towards the St. Paul's Open Space, which is hardly ten minutes away. This was the beginning of our inaugural Sri Aurobindo Walk in London.
Under the canopy of the large trees in the little park we had a simple picnic with dhoklas and biscuits, pastries and fruit juices. Then we walked towards the Hammersmith tube station and continued on the road that took us to Goldhawk Road. We walked in twos and threes, exchanging news of ourselves and of our friends.
Soon we were on St. Stephen's Avenue. It is strange how it always looks the same, always deserted. Finally we were before the Blue Plaque. "Sri Aurobindo, Indian Spiritual Leader, lived here" it said. Those who were seeing it for the first time stood before it in happy amazement.
The walk back seemed short because we had so much to say to each other. Although there were many ways of getting from Hammersmith Road to St.Stephen's Avenue, the one we took seemed to us to be the shortest. We had the satisfaction in our hearts of having taken the road that Sri Aurobindo used to take to go home from his school everyday, so many years ago.
We hope to make this an annual event and hope to include all those who couldn't make it this year.