LEFTIST THOUGHT IN INDIAN CINEMA, by Lalit Mohan Joshi
There is something almost infectious about Lalit Mohan Joshi's enthusiasm for meaningful Indian cinema. He radiates a passion for cinema that anybody who has ever sat before a cinema screen can instantly sense. On 7th November 2008 he was in his elements at the Nehru Centre as he opened and led the ceremony which was held to honour Saeed Akhtar Mirza. It was at this same event that the latest issue of the SACF journal was released by the film maker. Titled "Leftist thought in Indian Cinema" it is a comprehensive volume about the rise and growth of what is commonly known as the parallel cinema or the non -commercial cinema.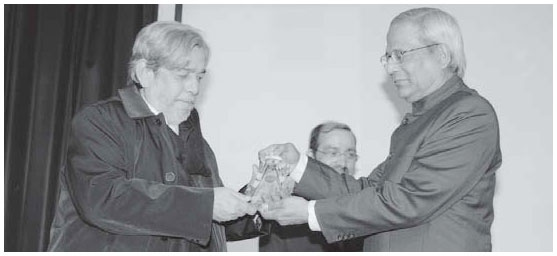 That evening Saeed Mirza was awarded the Excellence in Cinema Crystal Pyramid award by the South Asian Cinema Foundation. The award was handed over to him by the Indian High Commissioner Shiv Shankar Roy himself. Film critic for Evening Standard and co-founder of the SACF read out the citation before the audience had the pleasure of listening to Saeed Mirza answer Lalit Mohan Joshi's questions.
That conversation with the noted film maker in fact greatly helped to understand the content of the volume that he had just released. What exactly is leftist thought in Indian Cinema? Cinema isn't just story-telling with pictures. It is an experience shared collectively. If one interprets "Leftist thought" as the anti-establishment voice then it is true that this voice has existed right from the days of the first talkies. It is the voice which wants to bring progress and break old dysfunctional ideas. And cinema can be the medium through which this voice can speak. It becomes a very valid medium in a country where the general mass is largely illiterate.
Although it is an issue of a journal "Leftist Thought in Indian Cinema" can be seen as a book and as a comprehensive compilation of writings on the subject. It is meticulously edited by Lalit Mohan Joshi and carries a foreword by Adoor Gopalakrishnan. However, it maintains some of the aspects of a journal by including several interviews with eminent directors whose works have always carried a stamp of sensitivity and beauty of expression. These interviews, some carried out in the past, have a "chatty" quality to them which brings them alive. Leafing through the pages one feels nostalgic. All the old favourites are there, with more than a passing reference: Shyam Benegal, Ritwik Ghatak, Girish Karnad, K. A. Abbas, Saeed Mirza himself, Adoor Gopalakrishnan, Mrinal Sen and even Raj Kapoor and Guru Dutt.
No reader should feel intimidated by the very cerebral title because this "book" is very readable. The volume abounds in photographs and the various chapters are interspersed with quotes from film personalities who belong to this genre. Interestingly, one also finds the lyrics of some well-known leftist songs, translated into English. Only those who know the words in the original will realise how inadequate even the best translation can be. The essence of these songs is not in what is said in the words themselves but in what is said between the lines and even in the bareness of the lines. And that essence, that very Indian sentiment, somehow can not be caught in the English language.
The pages of this elegantly produced volume are packed with information. Not only are there interviews, as mentioned earlier, but also reviews of films and essays by experts. You are told why Leftist thought didn't work in Indian cinema (it was an imported concept) and why Satyajit Ray's films did work even though they were not particularly Leftist (because they were deeply Indian). Coming almost at the end, Sunipa Basu's essay "How could Leftist ideas ever creep in through Tamil Cinema?" surprises you with its frank humour and sheer raciness; while some other essays are academic and include exhaustive bibliographical notes. Kerala, Tamil Nadu and West Bengal find their places and widen the canvas, making this reading experience truly "Indian".
It would be callous to even try to find drawbacks of this publication. Lalit Mohan Joshi fights a heroic battle to keep the spotlight on intelligent and creative cinema of India here in London. The sad fact is that the world at large doesn't know that there is anything beyond the commercial cinema of Bombay. Say "Indian Cinema" and you are likely to find someone react with "Oh, Bollywood!" What should be recognised as a folk art form is thought of as the best we have to say. Lalit Mohan Joshi deserves our praise and support for the work he is doing. This issue of SACF's journal is a gift to those who love artistic Indian cinema anywhere in the world.
The evening of 7th November was a cocktail of various delights. The award and the book release were already special, the opening speech by the Indian High Commissioner Shiv Shankar Roy as well as the words spoken by Derek Malcolm were truly enjoyable and inspiring, watching a short reel made on Mirza's body of work was an unexpected bonus since it is difficult to get any of his films on DVD, but the conversation with Saeed Mirza, one of the pioneers of the Indian parallel cinema, was the part which was most deeply satisfying. It was a privilege to hear him speak of what goes on in the mind of a creative artist like him, how a stray incident can trigger off a whole new train of thought, leading to the birth of a film.
The Mumbai film industry invests billions into an activity that in the end only promotes sex, violence and sentimentality. Does a country like India need that? Even a thousandth of that sum would largely suffice to make a film that would touch a heart or inspire the youth or show the way to a better collective life. As he spoke directly and so eloquently to the audience that evening it was clear that no progress can come about without that desire for it.