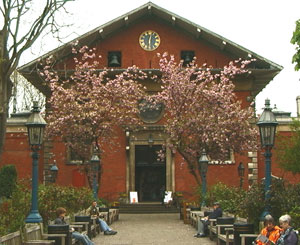 The Cherry Blossom Season has started in Tokyo and we are missing it. So we decided to have our own Cherry Blossom viewing in London. Yesterday we went to see the two large cherry trees at the Actors' Church at Covent Garden. The sun was shining through the pink flowers, letting us know that Spring was here at last.
We sat on one of the benches in the little garden. I couldn't help reading all the inscriptions on the benches. This is an idea that would touch an Indian heart. Just when your legs are aching to sit down somewhere you find a bench which has been donated in the memory of a loved one.
I had never heard of any of these actors, actresses or playwrights but I was so glad to know that they had been so loved. And that love had materialised itself as a bench in a garden on which I could sit down and admire the two lovely cherry trees.
Theatre actors rarely find the kind of fame that film actors do, so it's good to know that there is a special Church in their name in London. If you happen to be there don't miss the beautiful painting of the Madonna above the alter.