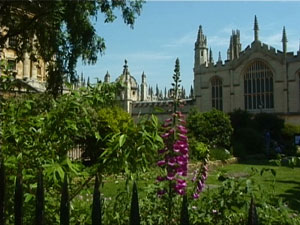 We decided to go to Oxford to make the most of the fine summer day which had been predicted.
The main purpose of the visit was to see the Picture Gallery of Christ Church College. We had been planning to go and see this collection for a long time as there are some paintings in it which were gifted by Sir Richard Nosworthy, who was my husband's great-uncle.
We really enjoyed sitting by the river and looking at the meadow. We were so close to nature even though we were just a few steps away from the high street and all the shops and cafés. The roses were in full bloom in every little garden.
The architecture of the various colleges was something worth seeing as well as the lovely botanical gardens. Just the fact of being in a place where for centuries people have come to seek knowledge was in itself an experience.