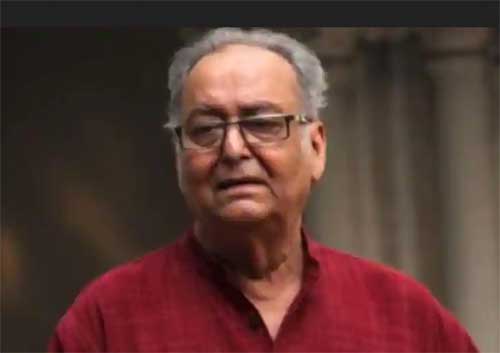 When I read that legendary actor Soumitra Chatterjee had been hospitalised after testing positive for the Corona virus I was really worried. He is 85 years old so he is much more likely to suffer for a longer spell. But then he must be in a good hospital and must be well looked after. I pray to God to save him and to bring him out of the hospital hale and hearty.
Those who are in their 30s have probably not seen many of his good films. He is famous as Satyajit Ray's actor who played the lead role in many of his better known films. But he has also acted in many other films and has a wide range of roles. Thanks to technology we can now watch his old films on youtube.
Only last week I saw his 1963 film "Saat Paake Bandha" where the role of the heroine is played by Suchitra Sen. It is a beautiful film made in an era when there was nothing too shocking or vulgar in films. The story is about a couple who manage to get married after a lot of opposition from the mother of the woman but ultimately the marriage breaks up because of the interference from the family. They divorce but after a while the woman realises that it was a terrible mistake because she knows that they still care for each other. But by the time she goes to speak to him about re-uniting he has already left the city and also the country and no one knows where he has gone. In spite of the sad ending the film is very watchable.
Soumitra has also acted in theatre and I have had the great good fortune of seeing him on the stage in Calcutta. I am saying "Calcutta" because when I saw him acting on the stage in the Star Theatre it was still called "Calcutta". I went to the theatre without knowing that he was in that play. Imagine my surprise when he appeared on the stage! I still clearly remember that when the play was over he stood on the edge of the stage after the curtain calls and people actually went and touched his feet! I understood then that it was a very Bengali tradition to go and touch the feet of a good actor to show appreciation and respect.
I also remember that he asked the people who were assembled to touch his feet if he could go back to the green room because he needed to rest. He explained to them that there were two shows that evening. He had just finished the 6 pm to 8 pm show and had to once again go up on stage and act in the 9 pm to 11 pm show. That's the professional theatre actors' life. They have to repeat the entire play after they have gone through it once.
I will not go into the Apu trilogy made by Ray. So much has been said that it would be redundant to say another word. Soumitra is good in all the Ray films in which he has acted. I really liked him in "Abhijan" and "Ghare Baire". But my most favourite Ray film with Soumitra is "Charulata". I have seen that film at least ten times and have always discovered something new.
I will end by asking you to see Charulata if you can find it anywhere on the internet. You can also see one of his recent films "Mayurakshi". That will give you an idea about his acting in his youth and his work in his old age. In "Mayurakshi" he plays the role of an old man who is sliding into Alzheimer's and his son, played marvellously by Prosenjit, is trying his best to do what he can for him, which is not much. All those who are looking after their aged parents will understand all the emotional pull and push which lie under this theme.
Soumitra is a legend but also so accessible and loveable.