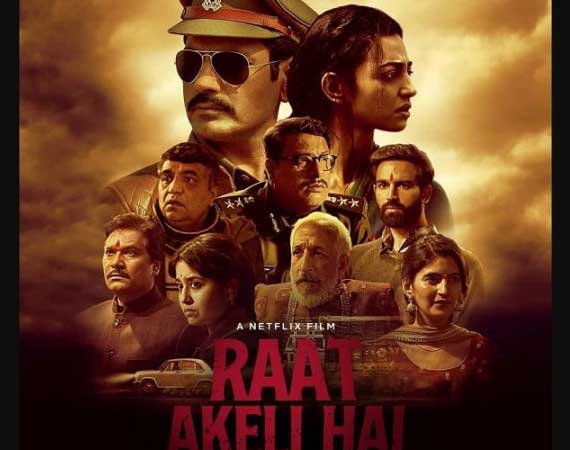 For decades we moaned and cried over the fact that Indian films were so unrealistic, unnaturally melodramatic, over the top in the acting department and so repetitive in the themes. Now we have come to a point where the new films are a bit too real, too gritty and no film resembles the other. If you watch a Hindi film at night you may actually not be able to sleep, you are so rattled.
Yes, I am writing this after watching (on Youtube) "Raat Akeli Hai" directed by Honey Trehan and produced by Ronnie Screwvala. The film is a murder mystery thriller. But only on the surface. When the last scene of the film ends and the end credits roll you realise that actually it's a film about patriarchy and power of the male members of the family. It is this double level of story that makes this film outstanding.
The screenplay is written by Smita Singh. You wonder how a woman could have written such a brutal story. Honey says in one of his interviews that he and Smita both come from UP where these kinds of stories are there in each family. "We have both seen this type of behaviour and thinking in our own families," he says. That explains it. This is the stark reality of Uttar Pradesh society. Art imitates life. Smita didn't have to go very far to get this sordid tale.
Here is the plot in brief. A rich old man, marrying for the second time, is found dead on the night of his wedding. His bride is a very young woman from a poor background. We discover later that she was sold by her father to this rich man who had kept her as his mistress for five years after which he decided to marry her. The police is called and an investigation starts but the story gets more and complicated as it proceeds.
The sprawling mansion is full of relatives and anyone could be the murderer. Till the middle of the film you feel you are in a Agatha Christie type story and you can see that the obvious suspects are not the ones. Slowly the layers peel off and you an see that there are new twists and turns and the end is completely unexpected. The dead man's adult children as well as his sister and her adult children are all under the same roof and no one seems to be particularly sad to see him dead.
The film belongs to Nawazuddin who plays the inspector who is investigating the crime. The whole story is seen from his perspective. The screenwriter has kept in mind the personal arc of this man and this is such an interesting growth that in the end you don't care who was murdered and who killed him. The fact that this man's flawed way of thinking changes gradually is what makes the murder mystery more gripping. As more and more details of the crime are revealed the audience also gets to see more and more aspects of this man's mind.
Radhika Apte is in an unglamorous role but completely at ease in it. She brings her raw energy to this character and we are never sure which way she will turn. Strangely, she is the only woman in the film who has some sort of freedom and strength while the other women are under the power of someone or the other.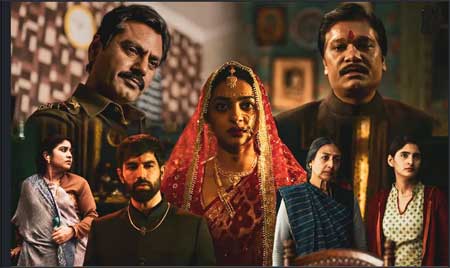 The other characters are played by well-known actors who have given us convincing performances earlier and here too. Ironically, Khalid who plays the murdered patriarch had come to Pondicherry decades ago and everyone wanted to do acting workshops with him. This stage actor, known for his acting skills, gets only a couple of minutes of acting on screen and is only seen as the dead body for the rest of the time!
We are at an important turning point in the history of Indian cinema where women are coming out of the shadows. There are more women screenwriters than ever before and they are telling the stories of other women. This new trend can be seen in all the new films which have come out recently. We are no more in the old rut of love stories. We are now in the world of murder mysteries and tales of revenge. As long as men were in charge of writing and directing films these stories remained hidden. Perhaps Indian society will become more and more aware of where our flaws lie by looking at things from this new perspective.
The flow of events has brought this phase which we could not have foreseen. This pandemic has brought this situation where films are going for an OTT release and that means more people are getting to see these films than if they had been released in cinema theatres. All the parameters of film making in India will change now and we will enter a completely new era. I can't wait to see what comes out next, specially from women writing women's stories.