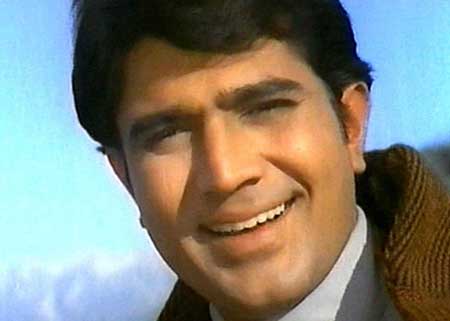 Rajesh Khanna is no more. The outpouring of emotions, as the news of his death was announced on television channels, was a proof of how he had always been present in the memory of people. It was not only in India but across the continents, wherever the Indian diaspora was present, this event was felt as a personal loss by thousands.
Rajesh Khanna had been living in Mumbai for decades, in quiet isolation. Why didn't people tell him then how much they loved him? It would have made him happy. These emotions, I feel, are really not so much for the man Rajesh Khanna but for what he represented in the psyche of his fans. He was the embodiment of romance, of that joy that comes from giving oneself to someone.
He was a good actor and that is why what he stood for went so deeply into the minds and hearts of the viewers. He was not the copy of someone else. While Dev Anand styled himself after Gregory Peck, Raj Kapoor tried hard to be another Charlie Chaplin and Shammi Kapoor reminded everyone of Elvis Presley, Rajesh Khanna was unique. He was not tall nor did he have a well-built body. He was neither a good dancer nor a fighter. But there was something in his voice and eyes that made his words go straight to his female fans' hearts.
Much of that persona was created by his directors like Shakti Samanta and Hrishikesh Mukherjee. Rajesh Khanna was to a large extent a product of the Bengalis present in Bollywood at that time. Apart from the Bengali producers and directors there were people like Kishore Kumar, R.D. Burman, S.D. Burman and even Sharmila Tagore and Rakhee. Amar Prem, Bawarchi and Anand were stories written by Bengalis.In fact, Bawarchi was a remake of a Bengali film in which Robi Ghosh had played the main role. It was their sentiments and thoughts that went on to make Rajesh Khanna what he was. Neither in Bawarchi nor in Anand was Rajesh Khanna playing a man in love. In these two films he was playing characters who were positive and creating happiness around them.
On every television channel the interviewees were being asked what made Rajesh Khanna so popular with women. The answer is very simple. The roles he played were always of men who were deeply romantic. In his films he put his lady love much above himself and was ready to do anything for her. He held her in such high esteem that every woman who watched him felt loved and respected. That is what is missing today from the screens. Women themselves want to be seen as seductive and are totally focused on their physical appearance because that must attract attention. In Rajesh Khanna's films women were objects of adoration. India may have become wealthier than before but crimes against women are in the headlines every other day.
Aradhana and Amar Prem were out and out Sharmila Tagore's films. And yet Rajesh is the one who shone so brilliantly because he was so worthy of the woman's love.We are crying for the death of romance. Every woman in India wants her man to say that he can't bear to see her tears. That is why the words "Pushpa, I hate tears." have become almost an anthem.
Please, can we have a little less violence and foul language and a little more affection and sweetness on the screens.