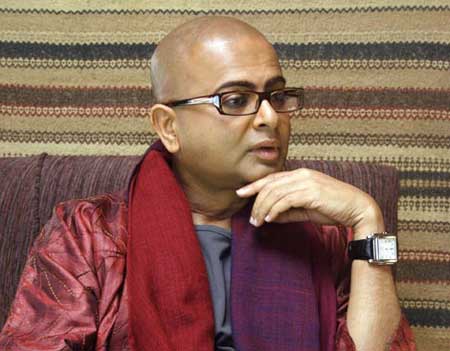 Like everyone else I was very surprised to see the news of Rituparno Ghosh's death on TV. The same footage and stills went on and on for hours, making it more irritating than informative.
I immediately got a copy of "Shob Charitro Kalponik"to show to my mother who all the while had been thinking that an actress called Rituparnaa had died. I showed her that dvd without being too sure whether she would like it or not. As I watched the first half hour with her I remembered at once that Rituparno had started his career in advertisement. The whole film was one long ad film, I felt. The colour combinations (beige, red, black) and the compositions had all been a bit too carefully planned. But the thought content was refreshingly new.
The story is about a couple who are not in a harmonious relationship. The woman is upset by the man's irrational behavior. His impractical action pushes her to take on all the responsibilities of running the household. The man dies suddenly and going over her memories the woman begins to understand him better.
The style of filming may have been too close to the idealized world of advertisement but the content indeed was very close to the grey reality in which we all live. No relationship can ever be perfect. Human beings are imperfect so they cannot love perfectly. In India where marriages are fixed by others, as this marriage was, couples have to just accept that they may not be perfectly in tune with each other. The question is "How does one build a harmonious relationship with someone who is not on the same wavelength?"
Rituparno picked up a valid point to reflect about. Can one ever fully know another? He reminds us of the bitter truth that we understand the value of a person only when we have lost him forever. Can the woman leave the man when she knows that he is too weak to stand up on his own or bear the hardships of loneliness? At that age, in spite of his literary success, will he find another woman to look after him? She can continue to live with him out of kindness but kindness is not love.
The answers Rituparno offers are quite startling. The fact of sharing a living space creates so many layers in a relationship. The wife realizes when the husband is gone that she had indeed loved him in her own way, that she will miss him. She begins to understand his poetry. The most important revelation of the film is that even hatred and anger bind a person to another.
However unconventional Rituparno may have been in his personal life, making most people uncomfortable about it, at least he will always be remembered for having pulled Bengali cinema out of the pit into which it had fallen. He had the courage to make films that focused on real-life situations. His stories made people sit up and think.
My favourite Rituparno film will always be "Noukadubi". I thought he caught very cleverly the essence of the story, the essence of Tagore and the essence of Bengali sensibility. "Chokher Bali" is a close second. More than Aishwarya I was caught by Raima who is entirely a Rituparno creation. I loved the way he recreated the epoch in which the story is set.
Even before he turned 50 he made 19 films which is really creditable. He lived a life dedicated to his artistic creation. That dedication is an example he has left behind for others to see.